This is a carousel. Use Next and Previous buttons to navigate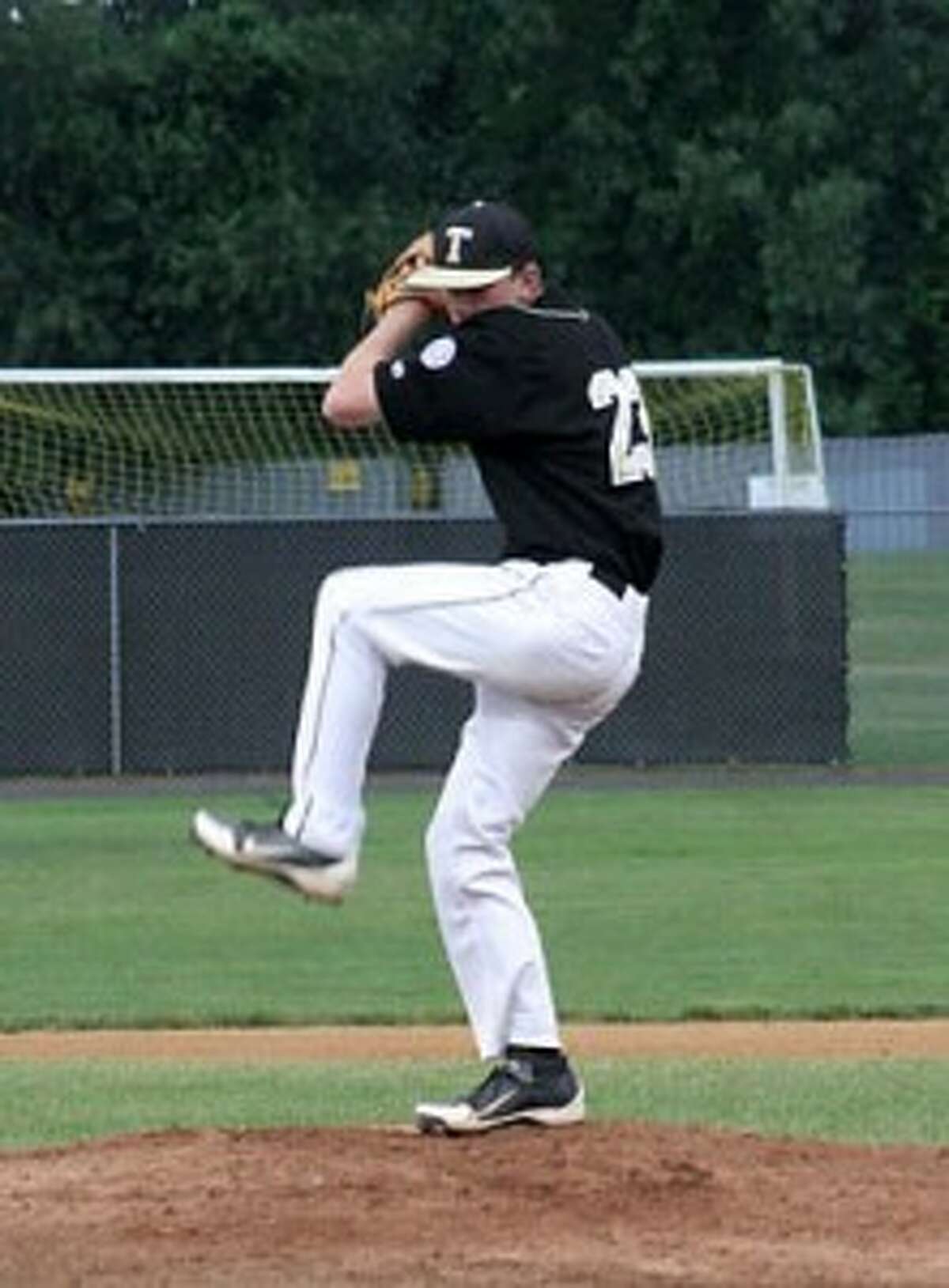 Trumbull manager Mike Buswell isn't a risk taker, so with confidence he put Tyler Zikias on the mound for the host team's 13-15 New England  Babe Ruth Regional Tournament elimination game with Nashua, New Hampshire on Sunday night at Trumbull High.
"Tyler has been awesome for us this summer," Buswell said after Trumbull blanked Nashua, 5-0, to earn a berth in the semifinals opposite Augusta, Maine on Monday afternoon at 4:30.
"He didn't have his best stuff on Friday (in a 10-7 victory over Plymouth, Mass.) and he wanted another opportunity to show what he can do. We (coach Jack McFarland) knew he would bounce back."
Zikias pitched six innings of two-hit shutout baseball before Mike D'Agostino came in to pitch the seventh.
"Coach never wants to tell me when I'm going to pitch," said Zikias before he added with a smile. "I'm the number four pitcher on this team, so I don't count on throwing in the big games."
With Trumbull (2-0) needing to defeat Nashua (1-1) or go home, Zikias more than made up for his manager's confidence in his ability to get the job done.
A righthander, Zikias set down eight of 10 batters to start the game.
Trumbull catcher Josh Colondona threw out Andrew Patno after he walked to open the second. A.J. Mele singled to start the third, but Zikias set down the next three batters.
Dustin Siqueria led off the home first with a single off Nashua starter Dom Palandino and Zikias had a two-out single, but no runs crossed the plate.
In the second, Nolan Nemchek and D'Agostino had solid singles to left field. Mike Garofalo's one-out walk loaded the bases for Samuel Montalvo, who kept up his clutch hitting with a two-run single inside the third base bag.
"Samuel gave us another big hit from the number nine batter," Buswell said. "We were swinging the bats, but were a little loose on the bases and we needed that hit."
Nemchek was hit by a pitch with one out in the third. He avoided Conner Coy's tag on D'Agostino's ground out to second and scored when Colondona blooped a single into no man's land in right field.
Coy opened the Nashua fourth with a walk, but  Sigueria started a 6-4-3 double play well turned by Montalvo to Garofalo at first base.
Trumbull exttended its lead to 5-0 in the bottom of the fourth.
Garofalo's outfield fly was dropped for an error before Montalvo's well-placed bunt put two runners on base for Siqueria and the top of the batting order.
Siqueria doubled up the gap in left-center to score Garofalo and Montalvo came across on Zikias' fielder's choice grounder.
Patno beat out an infield single for Nasua's second hit in the fifth. Zikias notched his sixth strikeout before Colondona threw out the runner trying for third.
Zikias pitched out of a jam in the sixth, as he had two strikeouts to finish with eight and leave the bags full on two walks and an error.
"From Little League and now through three years of Babe Ruth I've been with these guys," Zikias said. "It's a great group. We're best friends. We love to get on each other about stuff in a good way. They are my brothers."
Nashua posted its third hit on Mele's single after Tyler Macquarie was hit by a pitch in the seventh.
D'Agostino, who started the inning with a strikeout, then enticed a grounder to the right side that resulted in a 4-6-3 game-ending double play.
"Now it's down to a final four single elimination and anything can happen." Buswell said of Monday's semifinal with Maine.
"They are riding high having won that 7-6 14-inning game over Brattleboro in the first game and beating a good Cranston team 2-1 today when the loser would be going home."
Pittsfield, Mass improved to 3-0 with a win over Brattleboro and New Milford knocked off Plymouth to gain the other semifinal, which is scheduled to start Monday at 7:30.
The title game is Tuesday at 6:30, with the winner advancing to the World Series.