This is a carousel. Use Next and Previous buttons to navigate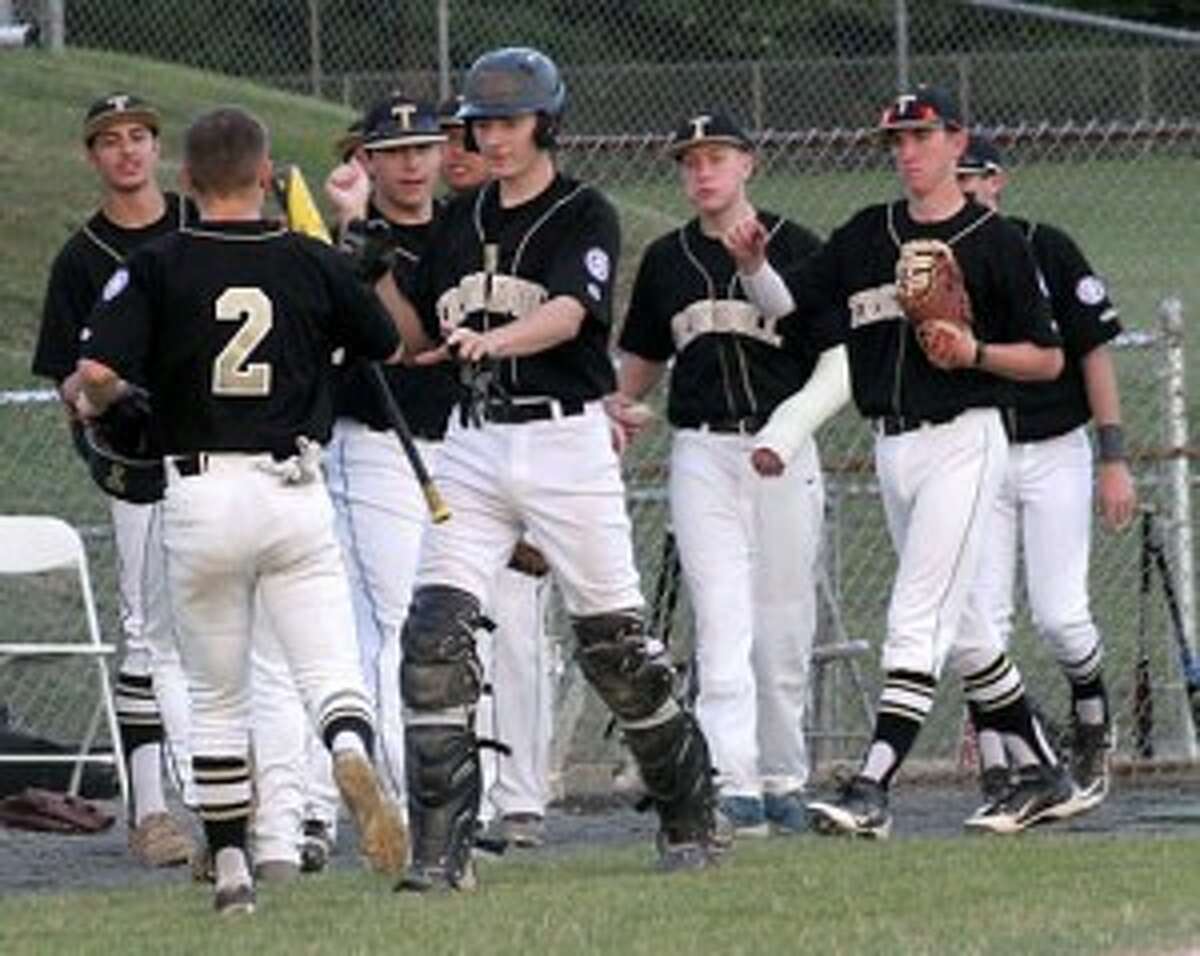 The Trumbull Babe Ruth 15-year-old All-Star team couldn't have asked for much more after it completed the first day of the New England Regional tournament with a 10-7 victory over Plymouth, the Eastern Massachusetts champion, at Trumbull High on Friday night.
"This is what we wanted, to come out here tonight and win in front of the home crowd against a team that is a three-time (13-14-15) state champion," Trumbull manager Mike Buswell said. "Give them credit (for their comeback). Tip your cap, they have good players."
Plymouth scored three runs in the sixth and four more in the seventh; the only problem for the visitors was that Trumbull had already taken an 8-0 lead.
Nolan Nemchek, Mike D'Agostino and Sammy Montalvo each had two-run singles for Trumbull. Dustin Siqueira and Mike Garofolo had RBI singles. D'Agostino tacked on a sacrifice fly.
"If you told me we would start the tournament with the back end of lineup having five or six hits I would have taken it," Buswell said.
"We wanted to get off to a good start and I'm happy with our poise, our defense and our getting two-out hits."
A big plus looking down the road was Buswell's ability to pull Nemchek after the righthander threw only 65 pitches in his five shutout innings."
"That's typical Nolan," Buswell said. "Five innings, sixty-five pitches on this stage. To have him rested for the rest of the tournament is huge."
Pitchers have a rolling seven innings to work with on any given day. Since Nemchek pitched five, he can throw two more innings on Saturday and have five coming to him on Sunday; or any combination therein.
Trumbull took a 2-0 lead on Nemchek's two-out sngle off Plymouth starter Nate Thomas in the bottom of the third inning.
Montalvo opened the inning with a walk, Siqueira was hit by a pitch and two outs later Tony Socci walked before Nemchek singled over the second base bag.
Garofolo robbed Brian Kingsley of a base hit to start the Plymouth fourth, as he made a diving catch going toward the foul line.
After Matt Lane walked, Siqueira charged Thomas' slow roller behind the mound and threw him out.
Josh Colondona threw down to Andrew Lojko covering third to nab Lane attempting to steal the base.
Montalvo doubled only to be stranded in the home fourth, but Nemchek set Plymouth down in order in the fifth.
Trumbull boosted its lead to 8-0 in the bottom of the fifth.
Lojko and Tyler Zikias drew walks off Nolan Rocchi, a lefthander who had came on to pitch in the fourth.
Socci put a great bunt up the third base line and all runners were safe.
A wild pitch scored one run before D'Agostino's sacrifice fly to left field took the score to 5-0.
Colondona walked to force a pitching change and Garofolo greeted Nick McNamee with a first-pitch RBI single to left.
Montalvo knocked in a pair with a base hit to right and Siqueira closed the rally with another run-scoring single.
Zikias came on to pitch for Trumbull in the sixth and two walks and a triple by Brandon Farrell led to a three-run rally, before he left two runners on base with a strikeout and a pop up.
Zikias doubled to open the home sixth, Nemchek beat out an infield hit and after a Colondona walk, D'Agostino singled in two runs.
Plymouth scored four runs around a pair of Zikias strikeouts in the seventh. Farrell and Lane had two-run hits in the inning.
In other first-round action, Connecticut champion New Milford defeated Nashua, N.H. 10-0, Pittsfield, Mass. topped Maine, and Cranston, R.I. defeated Vermont 3-0.
The second day of the round-robin format will find Vermont playing Maine at 10:30, Rhode Island meeting Plymouth at 1:30, Pittsfield taking on New Hampshire at 4:30 and Trumbull closing the day with a 7:30 p.m. game with New Milford,
All games can be heard on HAN Radio.