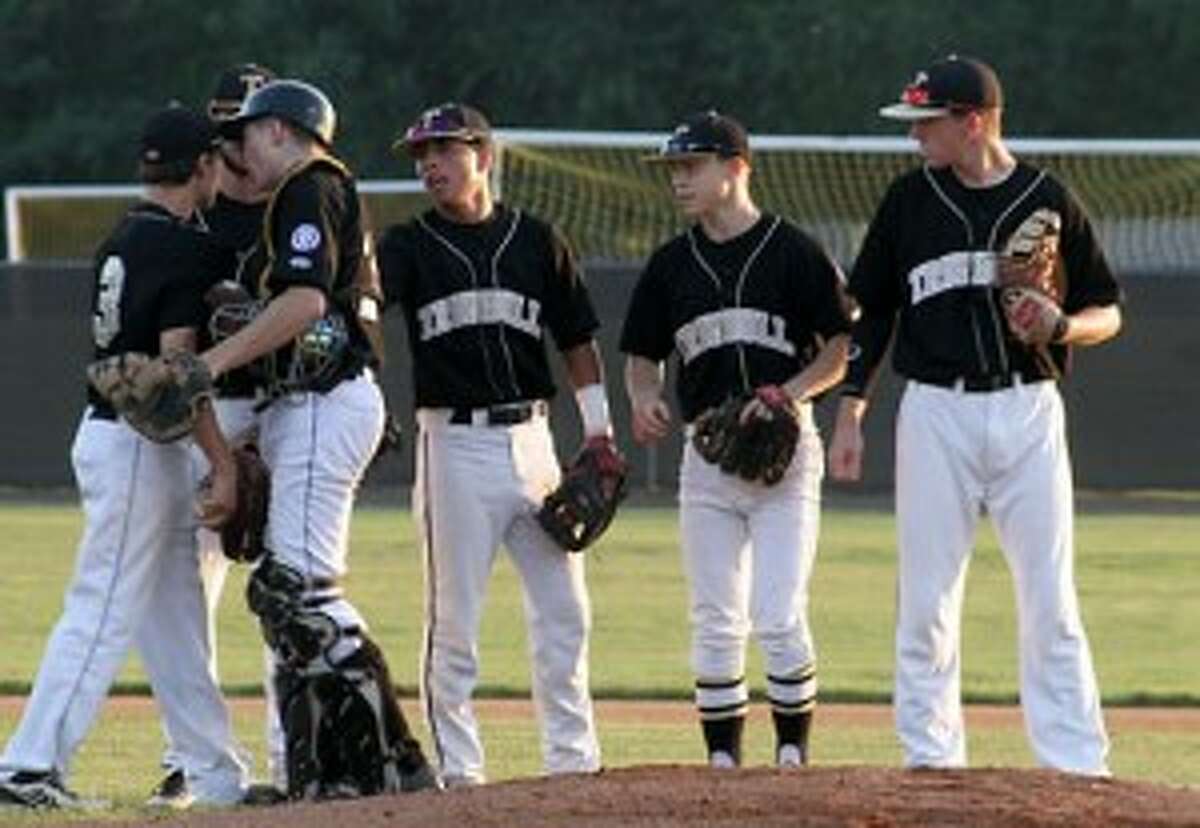 Most of the fireworks in the New England Regional Baseball Tournament came in the first two innings, and after seven frames it was Pittsfield hoisting the hardware when the Western Massachusetts champions defeated host team Trumbull by a score of 7-3 before a large bi-partisan crowd at Trumbull High on Tuesday night.
Pittsfield improved to 5-0 and will next play in the 13-15 Babe Ruth World Series in Lawrenceburg, TN. It was Trumbull's first loss in five starts.
"Early in the game I thought we had great at bats, as did they," Trumbull manager Mike Buswell said. "Even throughout the game we were getting runners on base and I felt we were one swing away."
Jacob McNeice held Trumbull at bay, as the lefthander got stronger as the game went on.
"He just didn't have his offspeed stuff...Basically he was one dimensional," Pittsfield manager Tom Rizzo said. "He was able to locate his pitches and keep them off balance. That's a great performance right there. When you don't have your best stuff and can throw like that, t says a lot about a 15-year-old kid."
Trumbull had three of its eight hits in the first inning, but in between the solid swings Pittsfield was able to turn a key double play to defuse the rally.
Dustin Siqueria and Andrew Lojko lined singles to left to start the game, before McNeice got Tyler Zikias to hit into a double play.
Tony Socci rescued the inning with an RBI single, the first of his three hits.
Pittsfield scored two runs off Mike D'Agostino in the bottom of the first on a hit and two walks.
A throwing error by Josh Colondona on a stolen base attempt tied the game and Brett Murphy's RBI groundout gave Pittsfield the lead.
Trumbull pulled that run back in the top of the second. D'Agostino led off with a single, was sacrificed to second by Colondona, and went to third when Samuel Montalvo's drive went off Jack Cooney's glove in center field.
Siqueria got the RBI with a bases-loaded walk, but McNeice got the next two batters to fly out.
Pittsfield put together five hits to score five runs in the bottom of the second. Brandon Peaslee, Devon Walker and Drew DeMartino had RBIs before McNeice delivered the big blow with a two-run single.
"It was a combination of them playing at a very high level all tournament long," Buswell said. "They hadn't been fooled by a pitcher all tournament. They have a great team and they got off to a fast start.
"That guy (McNeice) was on two days rest...I really thought we could wear and tear and eventually get him out of the game...Tip your cap to that kid he left everything on the field...He sucked it up and that kid gave it everything he had, even if he was minus a pitch."
Socci tripled to lead off the Trumbull third. Solid swings continued to be turned back by stellar defense, as Nolan Nemchek was robbed on a great play by Pittsfield's Tyler Cowdrey at third.
D'Agostino's sacrifice fly plated Socci, but it could have been more if Cooney didn't get back in time to snare his deep drive to center.
That completed the scoring. D'Agostino set down 11 of the last 12 batters he faced. After Anthony Whiteley reached on a bad-hop single in the fourth, Colondona threw him out attempting to steal. It was the third time that Colondona put the final out of an inning in the book with a caught stealing.
In the home third after a leadoff walk, Siqueria helped strand Cooney from his shortstop position on Noah Santos' bid for a hit on the second base side of the bag.
Trumbull had its chances, as it stranded 10 base runners.
Montalvo singled and Siqueria reached on an error with one out in the fourth, but a pair of popups left them stranded.
Socci opened the fifth with a single, but was forced at second.
Pittsfield shortstop Izaiya Mestre made two fine plays on swings by Mike Garofalo and Siqueria in the sixth.
Lojko reached on an error to start Trumbull's last bid in the seventh, but Pittsfield turned a 4-6-3 double play.
Socci's infield roller went for an error and Nemchek spoled a great 1-2 pitch before he singled to right. D'Agostino walked to load the bases. Colondona's try for a base hit up the middle was fielded by Mestre, who stepped on the bag to secure the title.