This is a carousel. Use Next and Previous buttons to navigate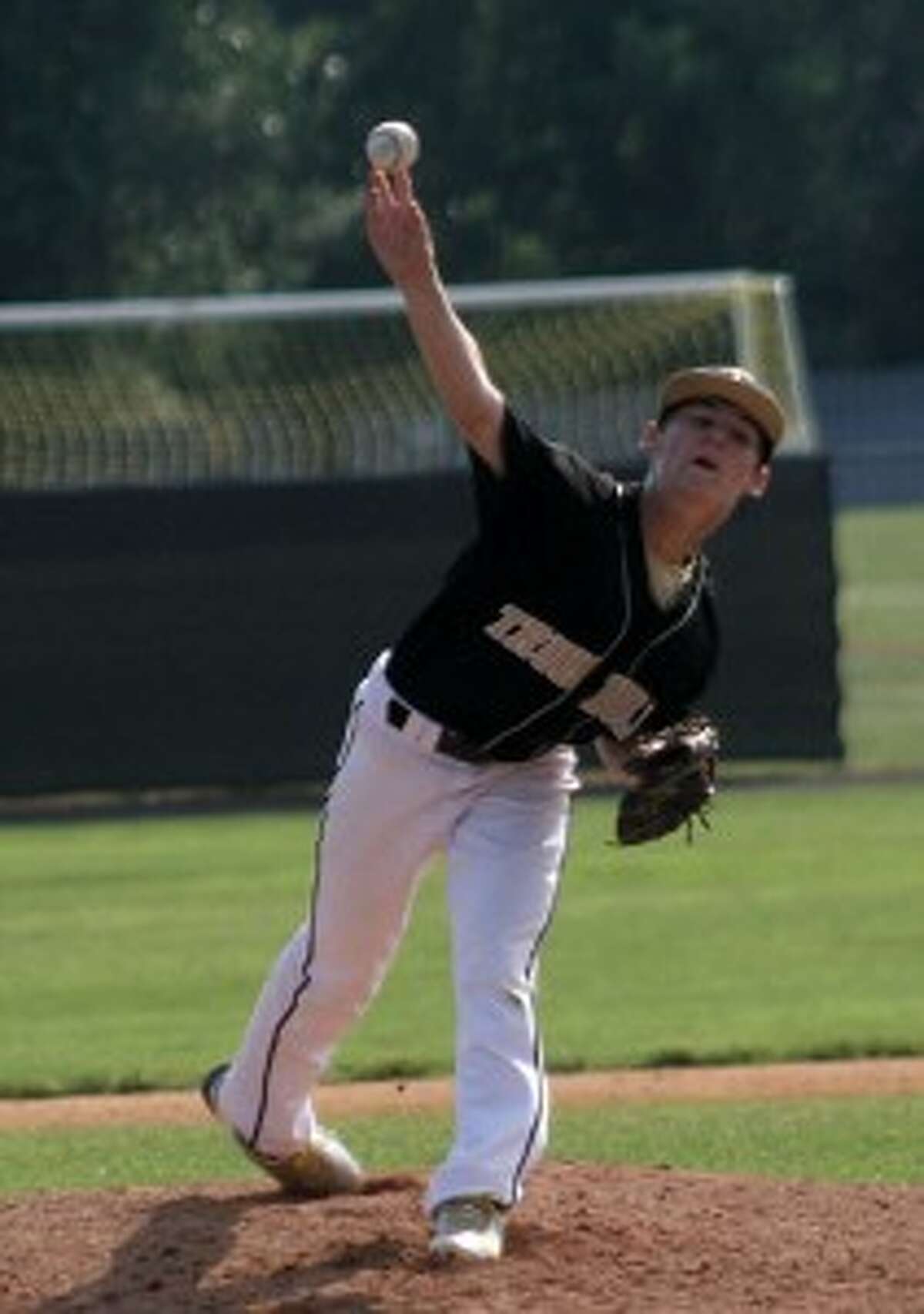 Trumbull Babe Ruth's 13-15 year old team upped its shut out string of pitching in the New England Regional Baseball Tournament to 21 innings as it dispatched Augusta, Maine, 6-0, on Monday at Trumbull High to advance to the championship game.
Trumbull, 4-0, will play Pittsfield, Mass. (4-0) for the title on Tuesday at 6:30 p.m. The Western Massachusetts team defeated Connecticut state champion, New Milford, 6-1, in the other semifinal.
Nolan Nemchek upped his personal scoreless skein to 12 innings with a complete-game three-hit performance against an Augusta team that finished with a  2-2 record.
"I have a slider and a curveball, plus three fastballs and I got them to roll it over," Nemchek said. "I'm not a strikeout pitcher. When you have a defense like this, and great teammates, I just love pitching."
Trumbull's infield of Dustin Siqueria at shortstop, Samuel Montalvo at second, Andrew Lojko at third and Tyler Zikias at first base took two of Augusta's five runners off the bases in the first six innings in front of a large and appreciative home crowd.
Nemchek, who struck out four, threw only 47 pitches through those six frames.
"We relied on pitching all year and Nolan has been like this every game. He keeps his pitch count down, so how many innings he throws really doesn't matter.
"Nolan won two games in last year's Regionals (for 14s) and him having 12 scoreless innings this year is no surprise to us."
In the first inning, Siqueria walked and went to second when lefty Nick Pooler hit Lojko with a pitch. After a fielder's choice, Lojko came around to score when he forced a high throw while stealing third.
Trumbull took control of the semifinal with a four-run outburst in the third inning.
Siqueria again got things started, this time with a single. Lojko was robbed of a base hit when Isaiah Magee made a great catch in left-center field.
Zikias walked and Socci singled to load the bases for Nemchek, whose hard shot to third base went into left field and two runs motored home.
Mike D'Agostino plated the third run in the inning with a single to left, one of his three hits in the game
Cole Lockhart came on in relief to get the next two outs, but Josh Colondona's grounder made it a 5-0 game.
Cody Taylor led off the Maine fourth with a single to left before Socci chased down Dylan Presby gapper and almost doubled Taylor up at first.
Trumbull turned the first of its double plays when Jacob Hendsbee's grounder to third went for a 5-4-3 twin killing.
Siqueria, Lojko and Zikias had three straight one-out hits in the home fourth. Socci's RBI sacrifice fly took the score to 6-0.
Noah Bonsant's leadoff walk and Devon Maschino's one-out single brought the Maine rooters to their feet, but a 6-4-3 double play doused the flame.
D'Agostino had three hits, Siqueria two, and