This is a carousel. Use Next and Previous buttons to navigate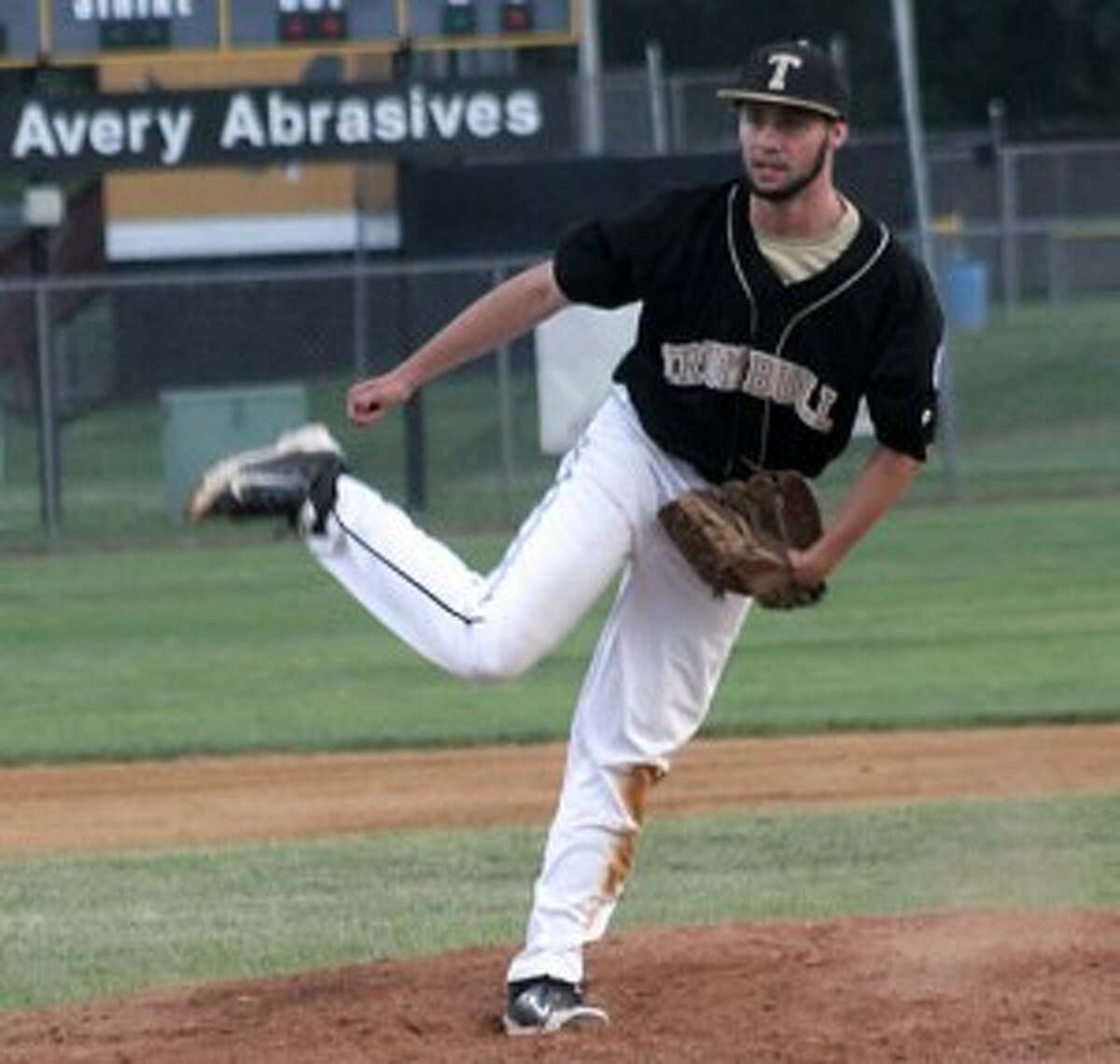 Trumbull Babe Ruth manager Mike Buswell and coach Jack McFarland had settled in at Buswell's house on Friday night after Trumbull had defeated Plymouth, Mass, 10-7, in the first round of the New England Regional on Friday night.
They had just begun to go over options on who to pitch in tonight's game with state rival New Milford when the phone rang. Buswell noted the time as 11 p.m. and wasn't surprised to see the name that showed up on his caller ID — Andrew Lojko.
Lojko had missed out pitching in the Babe Ruth Tournament for 13 year olds because of injury.
In the state tournament for 15s this summer, Lojko was set to throw the if game after Trumbull advanced from the elimination bracket, but the locals never got there after New Milford rallied to win 2-1 to claim the state title.
Lojko refused to be denied another opportunity.
"He said 'Give me the ball.'" Buswell said of the brief, but succinct conversation. "We were thinking Andrew or Mike D'Agostino, but Andrew really wanted a chance."
Given the ball, Lojko knew what to do with it, as the righthander shut out New Milford 6-0 on four hits at Trumbull High.
"We talked about defending our home field in front of our families and friends," Lojko said after Trumbull improved to 2-0 and New Milford's record leveled off at 1-1. "I had a good fastball and good command of my offspeed pitch tonight."
Trumbull, the visiting team, scored three runs in the fourth inning, two in the fifth and one in the seventh.
Tony Socci had two hits, including a double, and Dustin Siqueira, D'Agostino, Samuel Montalvo and Josh Colondona had singles for Trumbull.
"We've had a long history with this team," Buswell said of playing New Milford. "We beat them in a doubleheader in the regular season and they beat us 3-1 and 2-1 in the state tournament.
"We had a great week of preparation and felt this game would be like a fight between two heavyweights.
"That kid (New Milford starter Alec Lubas) beat us in states. He is a tough kid and a great athlete. We wanted to see if we could get his pitch count up. We had great at bats every inning, but couldn't break through."
After stranding four runners in the first three innings, D'Agostino ignited the three-run rally in the fourth with a one-out single to left field.
Four straight walks around a wild pitch brought two runs across the plate.
Kyle Fabich came on in relief here and Lojko greeted him with a run-scoring fielder's choice grounder to second.
Socci opened the fifth with a single to center. Nolan Nemchek drew a walk and D'Agostino's sacrifice bunt moved both runners into scoring position.
Socci scored on a wild pitch and Nemchek came home on an infield error to make it 5-0.
Lojko set down the first 10 batters he faced before hitting Matt Rodriguez with a pitch with one out in the fourth inning.
A strikeout and a fine play by Siqueria at shortstop left Rodriguez stranded.
Gavin Titus had New Milford's first hit with one out in the fifth. Fabich next drew the first walk issued by Lojko with two out, before third baseman Tyler Zikias backhanded Colin Lindner's grounder and stepped on the bag to retire the side.
Zikias was robbed of extra bases by a great catch by Titus in left field to end the Trumbull sixth.
Energized, New Milford came out swinging the bats in the bottom of the frame.
Leadoff batter Austin Dutcher and Lubas had clean singles, but in between the base hits, Socci in left field got a great jump coming in to catch Rodriguez' stinging drive.
After a wild pitch put runners on second and third, Lojko got an infield pop for the second out. Nemchek in center then tracked down Noah Martinez' chance for a two-run double.
Socci doubled to start the seventh, and two outs later Colondona singled him home.
Trumbull will play Nashua, New Hampshire (1-1) on Sunday at 7:30 p.m. in the final game of the round-robin portion of the tournament.
Augusta, Maine (1-1) and Cranston, Rhode Island (1-1) open play at 10:30 followed by Brattleboro, Vermont (1-1) and Pittsfield, Mass. (2-0) at 1:30 and New Milford (1-1) and Plymouth, Mass. (0-2) at 4:30.