This is a carousel. Use Next and Previous buttons to navigate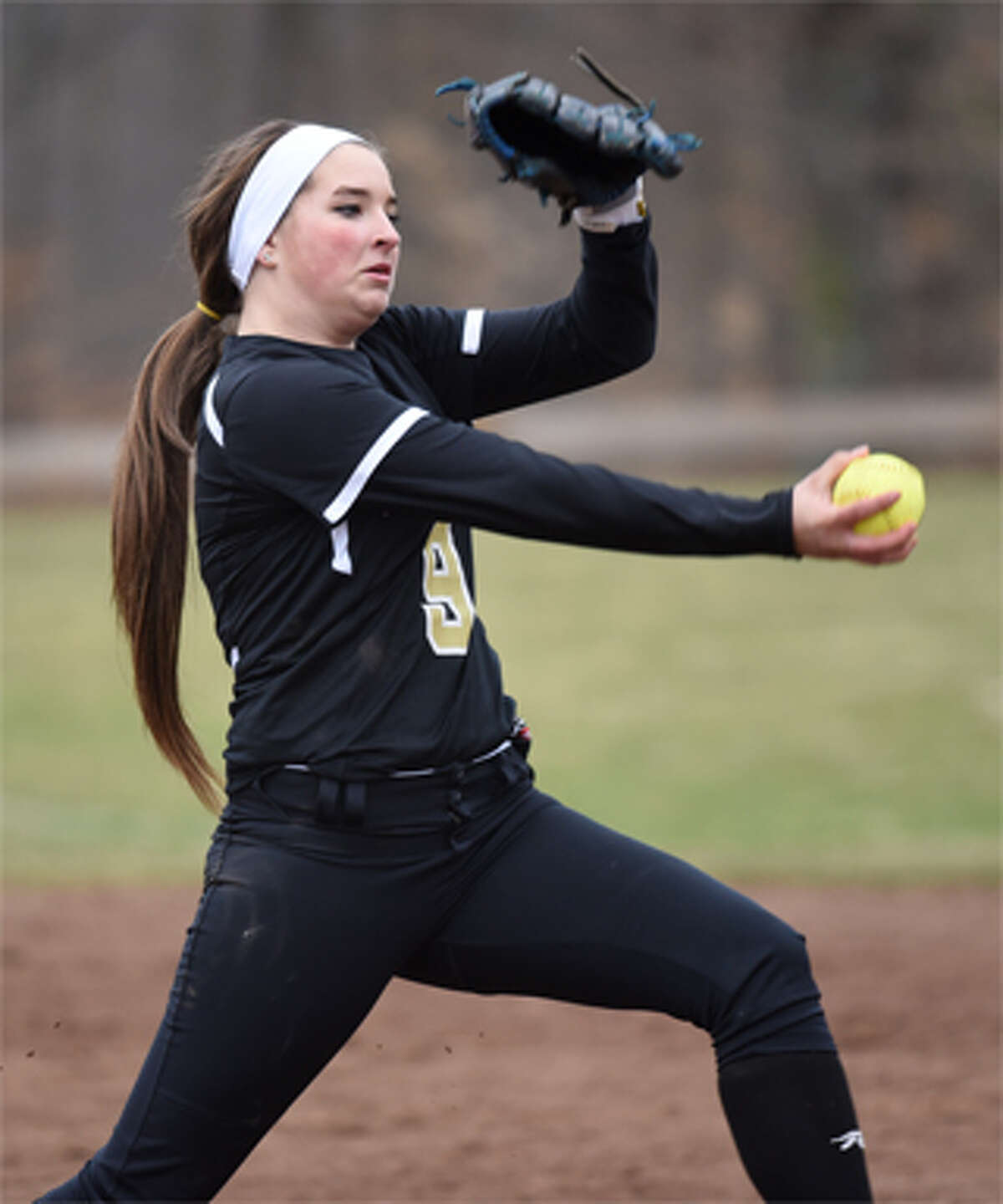 One of the main points of discussion during the Trumbull Eagles' softball preseason was pressure situations at the plate, such as hitting with two strikes or two outs.
"Try to put a little bit of pressure on yourself in the preseason," head coach Cary Nadel said. "So when it comes to league play time, they can perform under that kind of pressure."
It didn't take long for that approach to show excellant results.
Trumbull scored 13 runs with two outs against the New Canaan Rams and rolled to a 15-2, five-inning victory Friday in New Canaan's Waveny Park.
Harleigh Kaczegowicz and Emily Clark had the big bats for the Eagles, combining for six hits, five RBIs and five runs scored.
Hitting in the No. 3 spot, Kaczegowicz went 3-for-3 with a pair of triples, two runs scored and two RBIs, while Clark, the cleanup hitter, was 3-for-4 with a home run, three runs scored and three RBIs.
New Canaan helped out Trumbull by making four errors, leading to 10 earned runs. The first two batters of the top of the second reached on errors and, with a strikeout of the next hitter, Ram pitcher Gillian Kane could have had a perfect inning.
Instead, a parade of Eagles followed and banged out five hits, including doubles by Lea Thompson and Lauren Zielinski, and nine runs crossed the plate, turning a 2-0 lead into an 11-0 rout.
It's the second straight revenge win for Trumbull, which defeated Newtown 10-6 in the season opener on Thursday. Last season, the Eagles lost to Newtown twice and New Canaan once.
"The two teams we beat in the first two games are teams we lost to last year," Nadel said. "Avenging last year's losses to these first two squads was huge for them and it builds confidence."
Eagles' starting pitcher Samantha Platz worked three innings, allowing just one single with no walks and five strikeouts. Ally Szabo worked the final two innings, allowing two unearned runs on two hits and one walk with four strikeouts.
Trumbull got on the board with two in the top of the first inning. With two outs, Kaczegowicz hit a triple to center, and Clark followed by blasting a two-run homer deep to the left-centerfield gap.
The second inning began with a pair of errors and, after a strikeout, Nicole Palmer walked to load the bases.
New Canaan got the second out when Kane gloved a comebacker to the mound and fired a strike to catcher Molly Keshin for the force at home. However, an outfield error followed and the Eagles cleared the bases for a 5-0 lead.
Kaczegowicz and Clark then hit RBI singles, and Lea Thompson and Zielinski each doubled in two runs for an 11-0 lead.