This is a carousel. Use Next and Previous buttons to navigate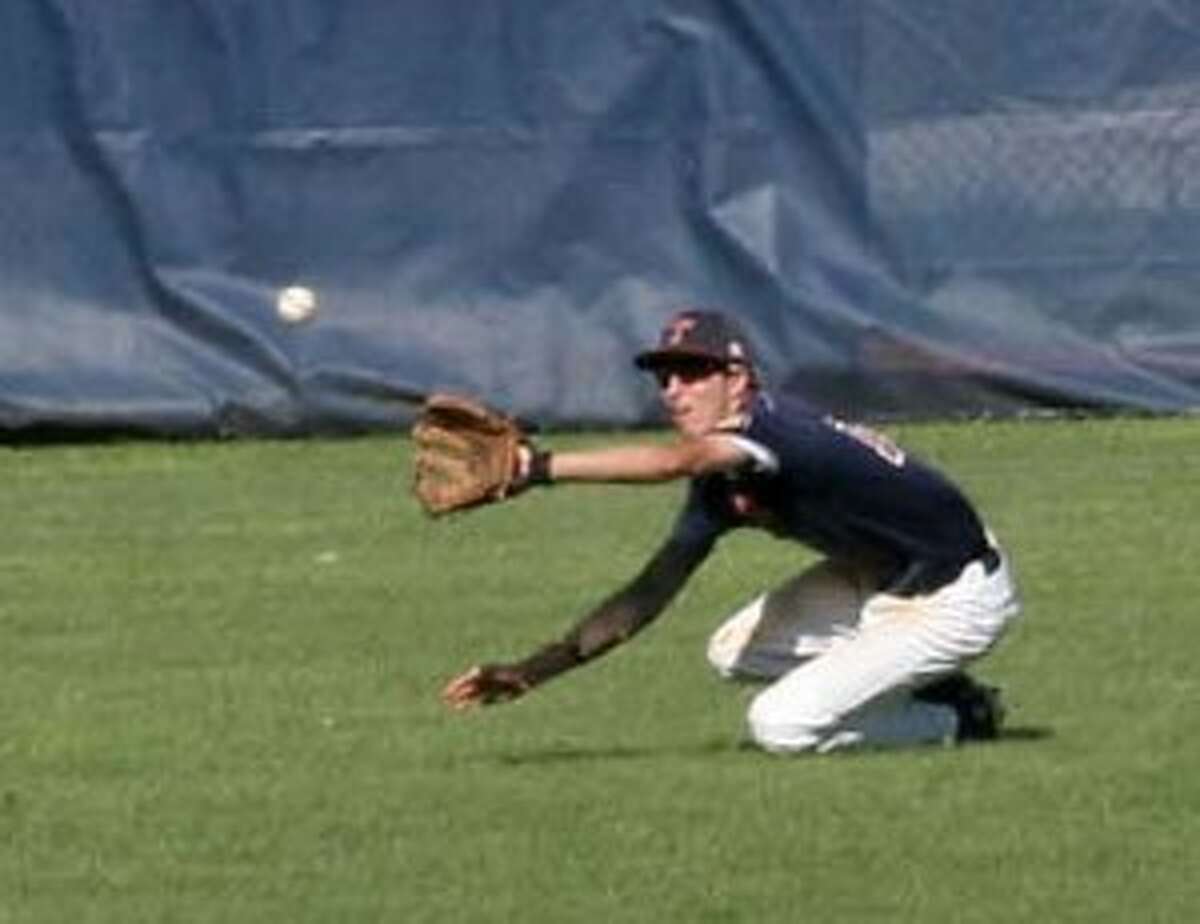 Stamford Senior Legion Post 3 took game one of a three-game series with Trumbull Post 141 by a score of 5-1 in American Legion state tournament play at Cubeta Stadium on Wednesday.
The Zone 4 rivals will meet again at Cubeta on Thursday. If Trumbull wins the 2 p.m. contest, the decisive game will follow immediately. The winner advances to the Southern Division Final Four at Palmer Field in Middletown.
Trumbull's Nikko Arganese pitched five innings of shutout baseball — and allowed only one unearned run and two hits through seven innings.
In the eighth with the game tied at 1, Stamford loaded the bases on two walks and a hit batter. With two down, Arganese and Anthony Frangiose had an eight-pitch battle that ended when Frangione sent a grand slam home run over the fence in left field.
Trumbull had eight hits and stranded nine baserunners. Stamford rightfielder Shawn Urbano threw out two runners looking to go first to third.
Post 141 took the lead in the top of the sixth inning.
Justin Waldek drew the second walk issued by Grant Stone. Zach Sagar sacrificed him into scoring position. After a strikeout, Kris DiCocco lined an 0-1 pitch into left center field to put Trumbull on the scoreboard.
Trumbull loaded the bases in the top of the seventh on a walk to Brian Hnatuk, Simon Whiteman's infield single and Waldek's walk.
Billy Devito came on in relief and Sagar hit the ball hard to deep shortstop. Johnny Spoto's strong throw nipped him at first in a bang-bang play.
Stamford tied the game without benefit of a base hit in the bottom of the seventh.
Urbano walked to open the frame, stole second, and was safe at third when Cris Ruiz' grounder was misplayed.
Arganese looked to get out of the jam with his sixth strikeout, but Ryan Lee's sacrifice fly tied things up.
With Eddie Meizel on first after his one-out walk in the decisive eighth, Arganese struck out Peter Horn and Sagar made a strong throw to second but Meizel was safe when the ball came loose.
Kevin Stone was hit by a pitch before Frangiose's homer.
For Trumbull, Waldek had a single in the first, but was out at third when an errant pickoff throw was backed up by Urbano.
In the third, Hnatuk had a leadoff single and was forced at second on Frank LaPegna's bunt. Whiteman followed with a single through the hole into right, but Urbano pegged out LaPegna going to third.
Chris O'Brien had hit in the second for Trumbull, and Matt Fasoli and O'Brien had hits in the seventh.
Ruiz singled for Stamford n the second and the only other Post 3 hit until the eighth came on Urbano's single in the fourth.