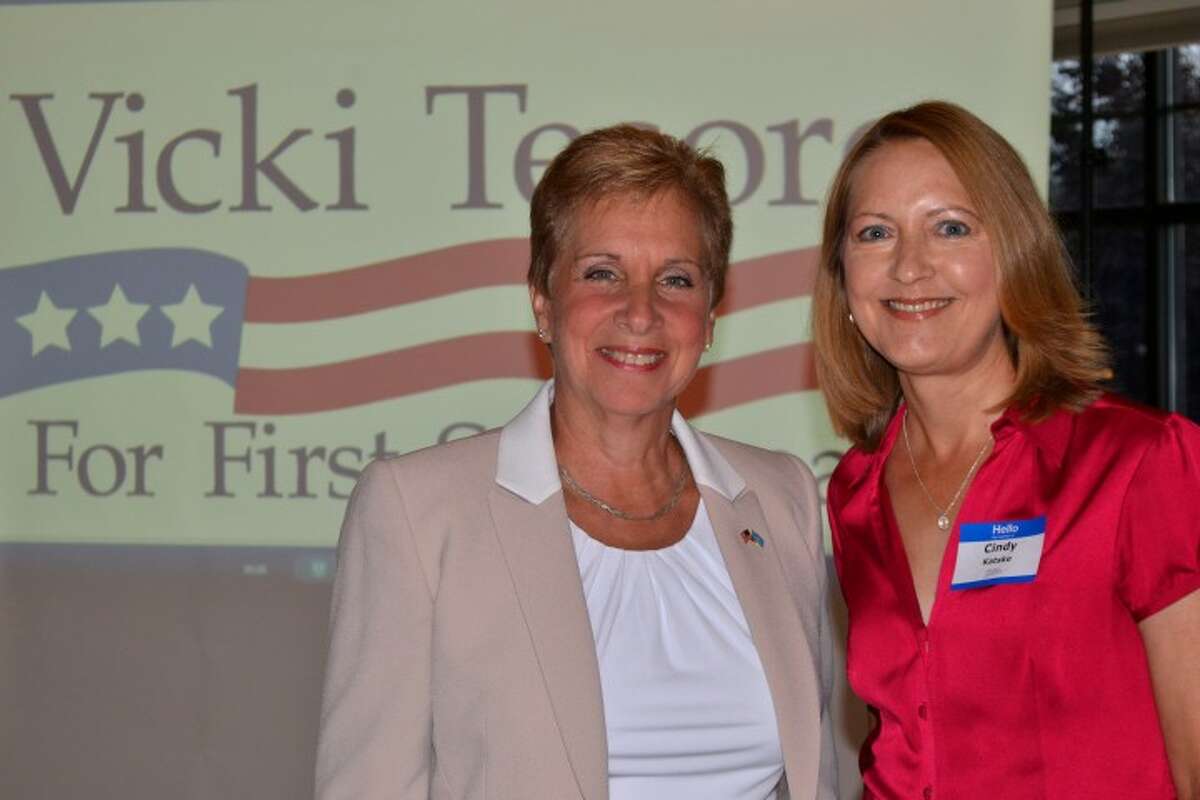 Town Council member and first selectman challenger Vicki Tesoro means business.


A day after receiving the Trumbull Democratic Town Committee's nomination to run for top office, Tesoro called out First Selectman Tim Herbst for using his town-registered email account to set the upcoming debate schedule for this fall's campaign.
"You are using the email system paid for by Trumbull taxpayers," she said in a letter addressed to Herbst Monday. "At first, I thought you might have made a mistake using your government email account, but I note that you used it again 11 days after the initial email."
With the 2015 election in sight after this week's nomination conventions, Tesoro wasted no time pointing out that Herbst's original email was sent at 12:14 p.m. on Wednesday, July 15 and the second email was sent on Sunday, July 26.
"Was either email sent from a town computer?" she asked rhetorically. "As you know, there is a prohibition against the use of town resources for political activities, and there could be SEEC and state law implications as well. Beyond this, you list your Town Hall office address and your Town Hall telephone number in the email as contact information."
Tesoro said that the address will be reviewed by town employees, and phone calls made to the first selectman's office will be answered by town employees who are being paid by the taxpayers.
"Do you plan to continue to use this email address for campaign activities? The Tesoro campaign demands that this cease immediately," the challenger said. "Fair play and common courtesy to our taxpayers require that no governmental resources be used in this campaign."
On Tuesday morning, Herbst told the Times that he would be using his personal email address for future campaign messages.
Debate proposal 
As for the debates, Tesoro proposed a schedule of three sessions for the first selectman candidates — down two from the five Herbst proposed in the middle of the month.
The three proposed debates from the Tesoro campaign include:
•A one-hour debate held on a weekday evening in early October, held at a Trumbull public school with the public invited, sponsored by the non-partisan League of Women Voters and recorded for replay on Trumbull Community Television
•A one-hour debate held on a weekday morning in mid-October with the public invited focusing on economic development, sponsored by the Greater Bridgeport Regional Business Council and recorded for replay on Trumbull Community Television
•A live one-hour debate from the studios of Trumbull Community Television, with Steve Coulter of the Trumbull Times and a reporter from the CT Post as the moderators.
The final debate would be held on Thursday, October 29 at 7 p.m., Tesoro said.
Herbst suggested a similar date in his earlier proposal, and said that the debate should be sponsored by the Trumbull Times and be moderated by Dr. Gary Rose, a political science professor from Sacred Heart University.
Additional arguments 
Tesoro also proposed that debates be scheduled for the Board of Education and Board of Finance candidates, with mutually agreeable locations, sponsors, and moderators.
"This would be a total of five debates for Trumbull voters, which would appear to be the maximum number that would hold the public's attention," she said in the letter to Herbst.
Open chair forums
In response to Tesoro's letter, Herbst said Tuesday that he would host a series of open chair forums if his challenger wouldn't meet him five times in open debate.
"I renew my call for five debates," he told the Times. "If she doesn't want to meet me in open debate five times, then I will schedule my own forums and have an empty chair in her place. At these sessions, the public can come and ask me whatever questions they like."
Herbst added that he'd like to have even more than five debates, if possible.
"I want her to explain to the voters her fiscal plan, and explain to them why she's against the town's recent spending," he said.
In addition to economic development, he said he'd like for a debate to be held regarding the town's education system.
"If you want to be the first selectman, then you have to make some tough decisions and I want to hear what she plans to do specifically," he said. "If you want to lead the town, then you will have to say what you will do."
Herbst pointed to his own acceptance speech that he made Monday night, which outlined his campaign "Trumbull 2025"
"I spoke clearly and specifically last night and when I read her speech all I saw was her speaking in generalities," he said. "And now she wants control public exposure by limiting our opportunities to openly debate against one another."
Rubber meets road
He said the proposed three debate schedule was proof that the Democrats "bark is worse than its bite."
"I think it's an acknowledgement that the town is running well, and that she is light on substance," he said. "If your job is to convince the electorate you should be hired and that your opponent should be fired, then you should want to take as many opportunities to articulate that...
"Open debate is where the rubber meets the road," he added. "It dictates a command of subject matter and allows voters to make an educated opinion on who's the best candidate to run the town. By limiting that transparency — the number of opportunities we can debate together — its clear to me how she intends to execute this campaign.