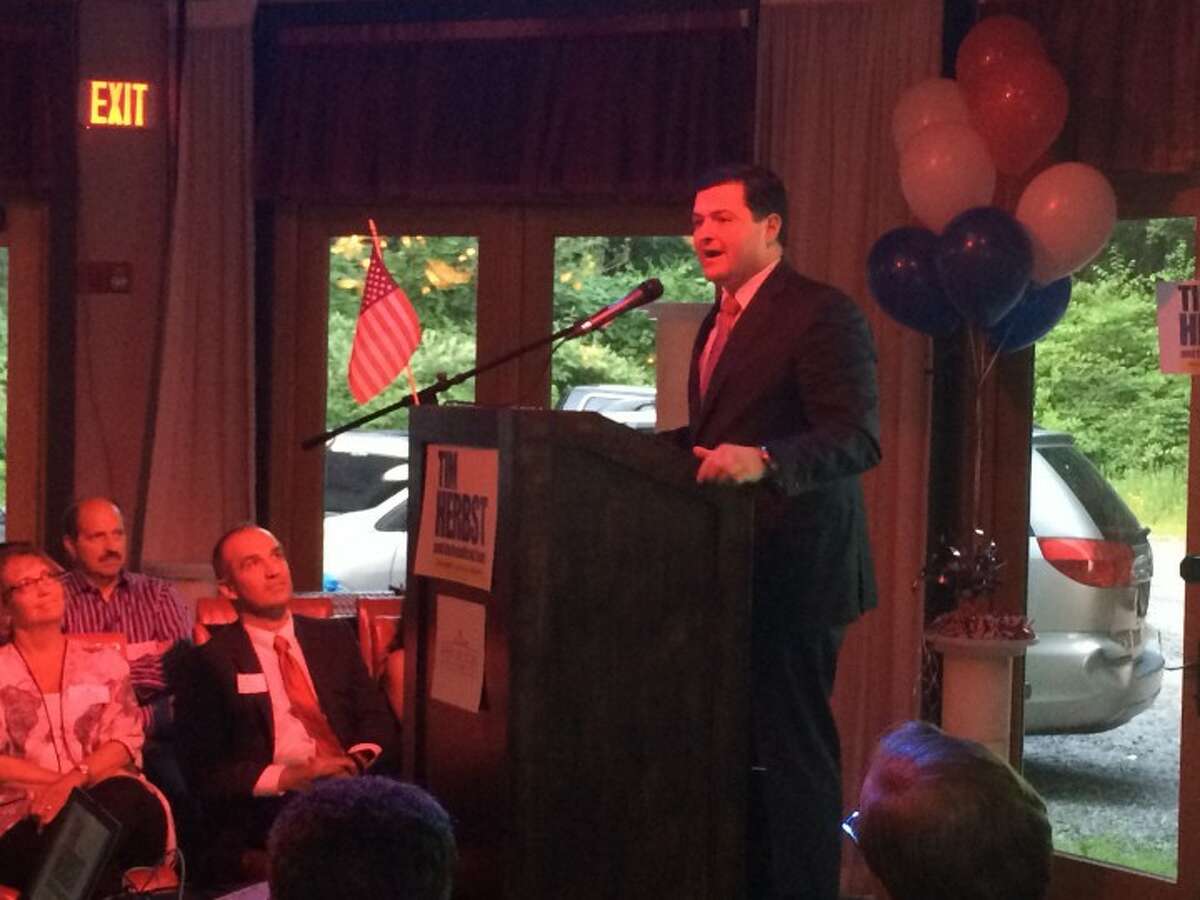 First Selectman Tim Herbst unveiled his "Seniors 2025" plan Monday morning, reflecting on Trumbull's aging population and detailing an outline for the town going forward.
The first selectman indicated that he wanted to keep Trumbull affordable for senior citizens, while at the same time expanding upon existing programs and offerings to senior citizens.
"With 25% of our population being over the age of 65 by 2019, the time is now to work to put facilities and programs in place that will allow our seniors the ability to afford and enjoy Trumbull, while aging in place," said  Herbst in a release.  "While we worked hard to offer one of the most generous senior tax relief programs in the state of Connecticut, we must look to find ways to assist our seniors in reducing their utility costs, while working with our state legislators to develop methods to allow seniors to freeze their local property taxes."
The Herbst administration noted its accomplishment over the last six years in the release, highlighting the first selectman's efforts to double senior citizen tax relief.
The release said that before the policy was implemented senior tax relief for a household income making less than $16,200 was $1,350. Under the new policy, a household in that demographic received $2,600 in senior tax relief.
Similarly, household incomes between $16,201 and $23,700, $23,701 and $31,200, and $31,201 and $38,7000 were getting $1,050, $815, and $615, respectively, in tax relief before the new policy was adopted.
Under the Herbst plan, those three demographics are getting $1,560 in aid.
In the two highest income demographics, seniors making between $39,501and $61,000 and $61,001 and $70,000 are now getting $780 and $312, respectively in tax relief, as opposed to $325 and 200, before.
Income qualifier
In addition to the income qualifier, the Herbst administration talked about its development of a volunteer senior tax relief credit that allows seniors to receive a credit of $600 if they commit to 100 hours of volunteer community service.
Other highlights of the first selectman's senior policy include:
•Reformed the Trumbull Housing Authority and brought real reform to Stern Village with the appointment of a new board and a new executive director.  To date, the Trumbull Housing Authority has improved the emergency management plan, developed a neighborhood watch program, installed an emergency generator and begun the process to secure state funding to improve and rehabilitate the entire property, including all units located on the property.
•As promised, the Herbst administration has impaneled a Senior Citizen Center Building Committee to finally begin the process of building a state of the art senior center for Trumbull's aging population.  Last week, the Trumbull Town Council approved preliminary funding to allow the building committee to begin planning for the construction of a new senior center.
•Reformed the Trumbull Nursing Department to provide better geriatric services to seniors
Looking ahead
In his Seniors 2025 plan, Herbst looked ahead to continuing to update the senior tax relief program so it is commensurate with inflation and cost of living.
He added that he would like to develop a plan allowing for an energy division within the Public Works Department that works with residents, specifically seniors in finding alternate and renewable energy sources to reduce utility costs for our residents.
"Connecticut's utility costs are the highest in the continental United States, second only to Hawaii," he said in the release.  "Utility costs are making it difficult for seniors to stay in Connecticut. We at the local level must provide resources and advice to help our seniors reduce their utility costs."
Herbst suggested that the town needs to build upon the senior volunteer tax relief credit and work with the Senior Citizen Commission to develop a "senior helping senior" program to care for its most elderly population.
He said that the town needs to move forward with the construction of a new senior center and take full advantage of available state and federal reimbursement to complete construction at limited impact to the Trumbull taxpayer.
The first selectman also outlined a plan for better wellness and recreational programs.
"Wellness and recreational programs for seniors that are integrated into the current program offerings at the Trumbull Senior Center," he said. "A new senior center should have a recreational component in addition to traditional program offerings."
New healthcare initiative
In Herbst's Trumbull Public Safety 2025 that was rolled out last week, the first selectman said he would continue to work with its local EMS Department and Nursing Department to explore and implement a community paramedics program.
"This is a new healthcare initiative starting in different parts of the nation," Herbst said. "This initiative is designed to help patients identify possible conditions, that if left untreated, could put them back in the hospital or leave them in worse off condition.
"Depending on local regulations, we may be able have our Paramedics make preventative home visits to chronically ill patients," he added.
Stern village
Looking at Stern Village, the first selectman said the town has the ability to create the premier affordable housing authority in Connecticut.
"Revitalize and redevelop Stern Village and the Stern Center to include new roads, rehabbed and new apartments that also include plans for energy efficiency," he said. "
Part of that plan would include expanding the Trumbull Housing Authority to increase housing for the elderly and disabled in the THA's source market area, which includes Trumbull, as well as provide additional on-site services to residents.
"With our baby boomers now becoming senior citizens, we have an obligation to continue to make Trumbull affordable with amenities and programs that will keep our seniors here," said Herbst. "While Connecticut has the dubious distinction of being ranked as one of the worst states to retire in, I believe we can look at the glass half full and make Trumbull Connecticut's exception to the rule."
Where's the follow through?
First selectman candidate and Town Council member Vicki Tesoro reviewed Herbst's plan Monday and said the Republican administration rarely follows the ideas it presents to the community.
"This Administration routinely voted against adding $10,000 dollars to senior programming and sat on a $150,000 State grant procured by then Senator Musto," Tesoro said. "Why does Mr. Herbst always put forward these ideas in an election year and never follow through? Remember the car tax relief he proposed in a previous election cycle."
Tesoro said if the town's political power structure changed this fall, then a new Democratic administration would "enact real senior tax relief for our needy seniors, add funding for expanded programming offerings and address their transportation issues."
"Unlike Mr. Herbst we will deliver it and not just in an election year," she said. "Finally, we will pay for these things by eliminating the spending excesses of the Herbst administration like 20.2% salary increases for elected officials and excessive legal fees. We don't have to spend more we just have to spend smarter."