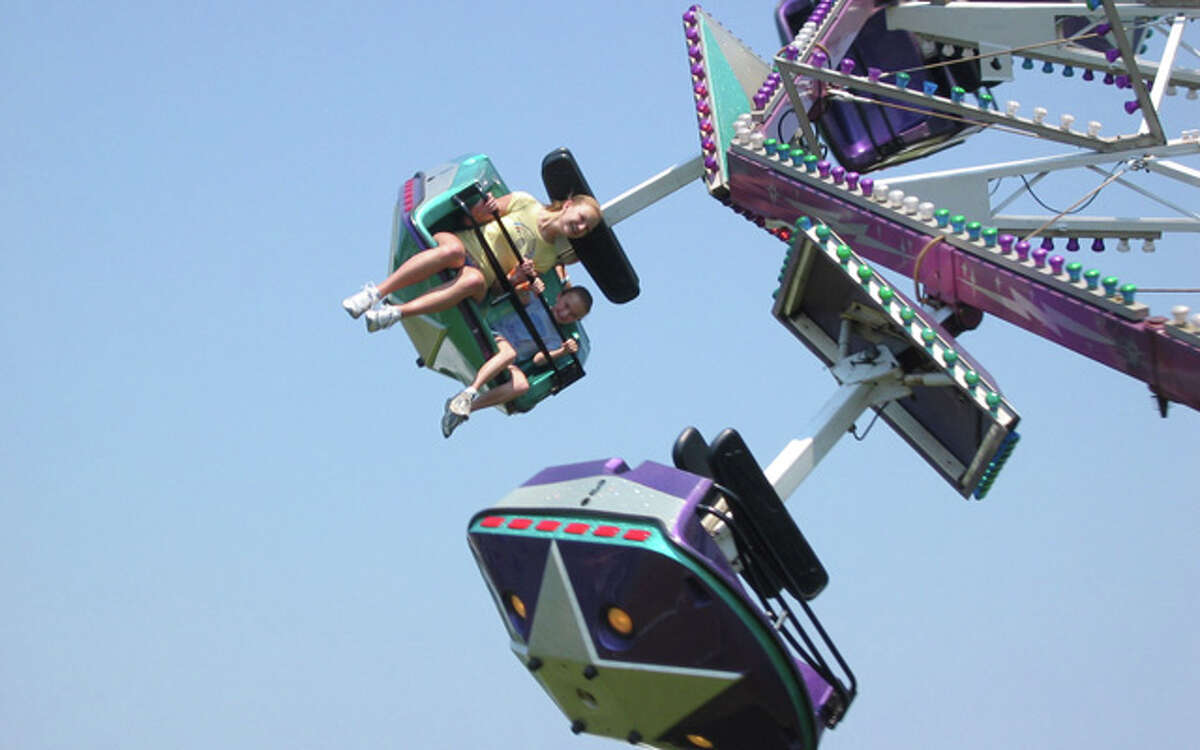 Despite some remaining controversy and confusion over how the traditional Trumbull Day in June has become part of the first Trumbull Fall Festival Weekend in September, it appears there will be rides, food vendors including a beer garden, live music and fireworks on Saturday, Sept. 12,from 2 to 10 p.m. at Trumbull High School, with fireworks beginning at 8:30.
Lynn Arnow, chief of staff for First Selectman Tim Herbst, and Stuart McCarthy, director of parks and recreation, told The Times Tuesday that although no carnival vendor submitted bids by the deadline on Friday, Aug. 14, a vendor has been secured that will offer a total of 16 rides ranging from "spectacular" to "major" to "kiddie" rides at a cost that was consistent with the budgeted expectations.
With this major part of the program finalized, Arnow said there will be no change in the $15,000 allocation from the town's general fund that was approved at a joint session of the Board of Finance and the Town Council on Aug. 13.
Originally, $45,000 was sought from the fund to offset a projected $11,225 loss, and as a reserve in the event the town's "conservative" projections were not conservative enough of a safety net.
Arnow and McCarthy presented at that meeting but heard frustration from the finance board over a lack of publicity surrounding the newly formed two-day event that includes 37th Annual Arts Festival on the Town Hall Green from 10 to 4 Sunday, Sept. 13.
"The event is only 30 days away and not a word of publicity has been put out," said Tom Kelly, a member of the Board of Finance member and chair of the Trumbull Democratic Town Committee.
Town Council Minority Leader Vicki Tesoro, who's running for first selectman on the Democratic ticket, raised concern over the bidding process noting that it might be in violation of the town charter.
"I have four pages of questions, but I'll let them go so we can vote," Tesoro said.
Festival breakdown
Arnow and McCarthy were excited to unveil the details of the festival Tuesday.
A new feature this fall will be The Beer Garden, which will be run by the new Veracious Brewing Company in Monroe that opened this past June. Seating will be available in the separate area, unlike in prior years, and all appropriate precautions will be in place to restrict access to adults only.
A selection of food trucks will be providing a wide variety of different cuisines and the main musical entertainment will be the Highland Rovers, who will be performing from 5:30 to 8:30 p.m. A disc jockey and other performances will offer music throughout the rest of the day.
The fireworks display will begin much earlier than did the June events in the past due to darkness coming earlier.
A new vendor, Pyrotechnico, has been contracted for the event. Founded in 1889 and based in New Castle, Pa., Mr. McCarthy said that he was very confident they would perform to the high standards Trumbull has seen in recent years.
Admission is $5 for ages 5 and over, and tickets for rides can be purchased or, as in the past, wrist bands can be bought allowing an unlimited number of rides.
One-trick pony?
Officials said that no decision has yet been reached on whether Trumbull Day will return next year to its traditional end-of-June weekend or remain in September in combination with the Arts Festival, and the status of the Trumbull Day Commission is uncertain.
The process of organizing the Fall Festival has been questioned by some of Trumbull's elected officials.
Tesoro voted to allocate the $15,000 last Thursday for the Fall Festival, but is concerned about several aspects of the planning process.
"Like every citizen of Trumbull, my team and I are expecting the Fall Festival to be a success. However, the success of the event is not the issue," she told The Times Tuesday. "The real issue is that the process used was badly flawed.
"Like so many things in Trumbull today a few in the know do the planning with little or no outside input," she said. "Trumbull Day should be planned well in advance by a commission made up of Trumbull citizens, with Trumbull government acting as an oversight body from a financial perspective. I believe this is true for any community event that is supported by taxpayer funds."
"Events such as this should be planned with the greatest transparency and elected officials from the Board of Finance and the Town Council should be informed of all vendor selections," she added.
Politics
Tesoro had sent out a press release Monday that mentioned restoring Trumbull Day as a summer event, noting that event "has frustrated the community and become a case study in mismanagement."
Responding to that release, Herbst said that the town's Democrats hadn't taken part in Trumbull Day over the last three years — either as sponsors or as volunteers.
"Many of them did not even choose to attend the event.  Their appointees to the Trumbull Day Commission resigned rather than working in a collaborative manner," the first selectman said.
"It is unfortunate that my colleagues on the other side of the aisle allow their bitter partisanship to take priority over the well-being of the community," he added. "My question is rather simple — if you want Trumbull Day to succeed, why won't you take a sponsorship, attend the event or volunteer the day of the event?"
Herbst continued that his opponent and her supporters "actually root for the Town to fail."
"They believe if Trumbull fails, they win," he said.  People that think like that don't belong in government."  
 More information about the Trumbull Fall Festival is available on the town's website.