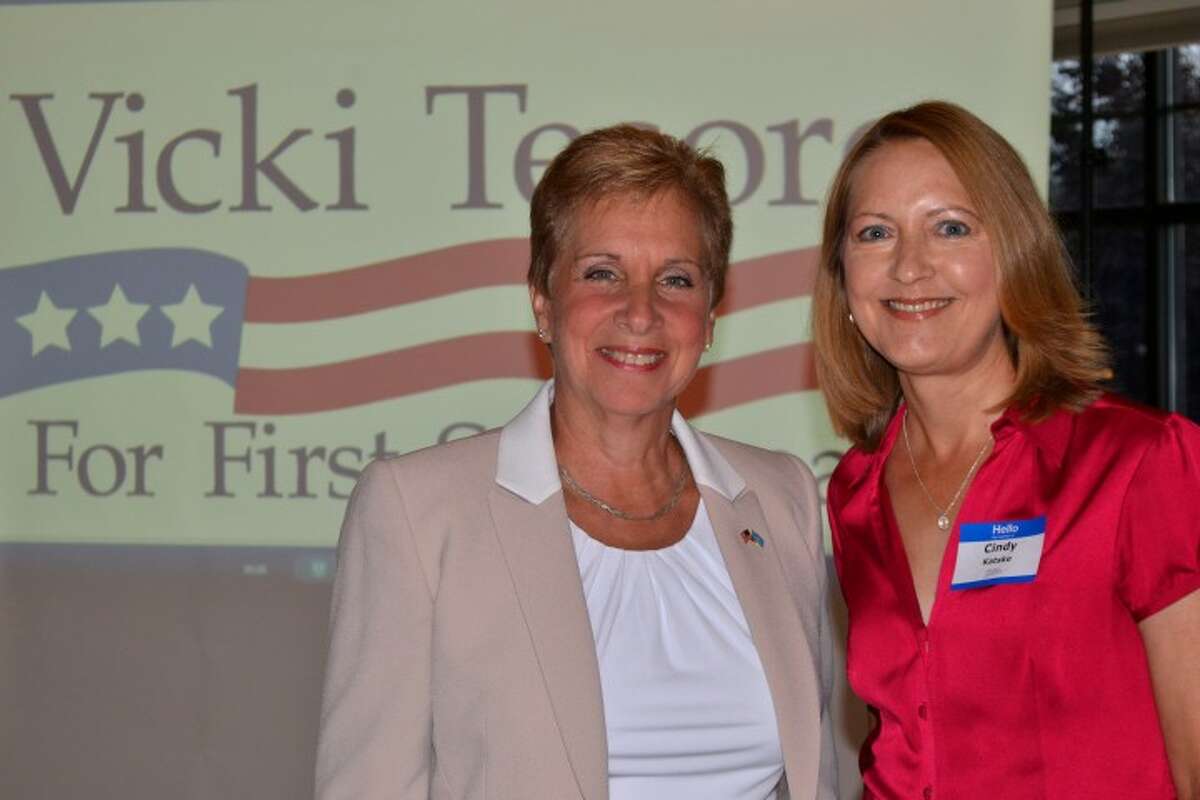 First Selectman Tim Herbst used an incident involving a Democratic candidate in running for office this fall and the town's tax collector to propel his stance that Town Council member Vicki Tesoro has "embraced people with no core principles and only personal agendas" in her campaign.
Herbst raised concern over a reported outburst that happened in the tax collector's office on Friday, July 31, involving David Kayne, who is running on the Democratic ticket for town constable. In a letter to Vicki Tesoro on Aug. 3, Herbst detailed that Kayne had screamed at Tax Collector Donna Pellitteri, Town Clerk Suzanne Burr Monaco and Administrative Assistant Alicia Altobelli after initially trying to pay his taxes at 8:30 a.m. on July 31 — 30 minutes before the office opened.
As a second example for his stance against the Democratic ticket , the first selectman used Board of Education member Susan LaFrance who currently sits on the board as a Republican, but will run on the Democratic ticket after not receiving a nomination in the fall.
Herbst said the GOP decided against nominating LaFrance because she's drawn the ire of both the teachers and administrations union, as well as other Republican officials on the board.
"Mrs. LaFrance began to pursue her personal agenda against teachers, administrators and other BOE staff," said Paul Lavoie, chairman of the Republican Town Committee, in a statement Monday.
"By September 2014, these issues had escalated to such a level that members were asking to have a union representative present during any one-on-one teacher or administrative meetings with Mrs. LaFrance."
Digging deeper, the first selectman cited a Board of Finance meeting from February 2013 where Tesoro's husband, Tom, complained in a public forum about LaFrance's "insulting" behavior. LaFrance served as an alternate on the board at the time.
"It's become a pattern of unprincipled people who switch parties more than they switch clothes," Herbst said. "My question to Vicki — what every Trumbullite should want explained — is why she'd want someone who would rather switch their party than run in a primary and defend their principles; someone who's run up frivolous legal claims and who's drawn concerns from several organizations in town...
"I'm concerned about the people on her ticket," he added.
Tesoro said she was proud of her ticket, and of LaFrance's participation on the board, in a statement Tuesday. She called Herbst's leadership unproductive.
"I want to focus on issues," she told The Times. "People are done with the back and forth bickering and the character assassinations...
"This is politics as usual, and we are not playing that game."
New low
LaFrance spoke with the Times Tuesday night and called the two-page letter from the RTC that mentioned her husband and family "a new low for Tim Herbst."
"When you've gotten comfortable attacking someone's family, and you truly believe someone's family is fair game, I think you've crossed a line," she said. "How can you have an open dialogue anymore when you're wondering if your family is going to be attacked for what you say and what you stand for? It sends a horrible message to anyone who may want to get involved in politics."
LaFrance traced a year-long dispute with Board of Education Chairman Deborah Herbst, who she claimed repeatedly denied her access to important information that was needed to make key decisions.
"She made me look like the problem, but the real problem is her inability to conduct a civilized conversation," LaFrance said about the first selectman's mother. "Her hostility, her intimidation tactics are the problem...
"I stood my ground and asked for information I should receive — that everyone should receive — and what I got for it was a disingenuous attack against my character."
LaFrance called the RTC letter "purposefully falsified," and said it states a litany of mistruths about her time on the board.
Most importantly, she said Herbst's claims about her personal agenda were mischaracterized and inaccurate.
"They've never been able to explain what my personal agenda is because there isn't one — they can't describe it; they can't put a finger on it because it doesn't exist," said LaFrance, who added that the first selectman originally asked her to volunteer and run for the Board of Education seat in 2013.
"They couldn't give you a time and place — not one."
'Represent all kids, not your own'
Deborah Herbst told the Times Wednesday afternoon that LaFrance's comments were all untrue and that the board member has been abusive to teachers and administrators over an issue with her daughter.
"She's trying to settle a score with them and as a chairman of the Board of Education I couldn't stand by and let that happen," she said. "Do I come come across as intimidating? I have to be, but that doesn't mean she hasn't been nasty and abusive to people that this town employees, and that's just unacceptable.
"My duty is to make sure our employees are treated respectfully by board members."
The board chairman added that she's held the post for 12 years and never served alongside someone as controversial as LaFrance.
"There's nobody that compares," Herbst said. "As a board member you're told to represent all kids, not your own."
"This isn't about politics, it's about the kids," she added. "It's been 12 years and I've never had anything like this on the school board."
Herbst noted she won't be running again this fall, relinquishing the top duty to a new official.
"I understand the GOP had to make a statement and she wanted to be heard, but this is an issue that goes across both sides of the aisle — ask anyone who's served on the board recently," she said.
Long history
Kelly, who left the Republican Party and was elected to the Board of Finance as a Democrat, said the GOP was using "the same script as they have in the past."
"When a prominent member of their party leaves, they throw that person under the bus with a long-winded diatribe," he said.   
He added that since this administration was elected in 2009, former Republicans have switched sides multiple times. The list includes RTC Vice-Chairman Lisa Valenti, who left the Republican Party to run for Town Council on the Democratic ticket; former Board of Education Chairman Ted Lovely; former Town Council member Martha Jankovic-Mark; Board of Finance member Andy Palo, who was elected to the Board of Finance as a Democrat; former Assistant Registrar of Voters Kathy Miranti, who ran on the Democratic ticket in 2013. 
Kelly had a different opinion than Herbst why Trumbull Republicans have left to become Democrats recently.
"More than 50% of the membership of the TRTC in 2009 is no longer there," he said. "Why have so many Republicans left? They left the party in power because their principles were more important."
Kelly said that with LaFrance joining the Democrats in July, the Republicans had responded in "typical fashion."
"The Republican Party issues a scorched-earth response," he said.  "Why were they silent while Susan was a Republican? Why did they ask her to run on the Republican ticket this year for the Board of Finance as recently as July 2? We believe that the Republican response is a bunch of sour grapes."
There will be more about the incident between the Tax Collector and David Kayne in tomorrow's Trumbull Times and at trumbulltimes.com.