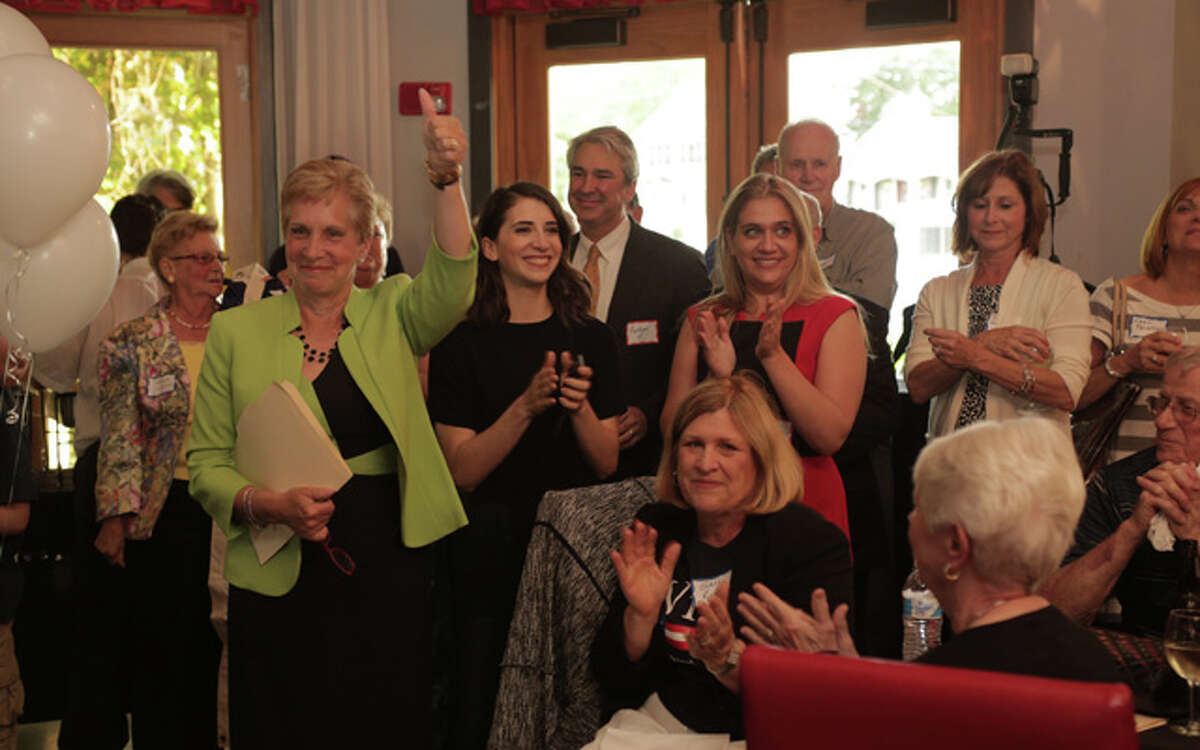 After an initially productive start to conversations on the schedule and format for debates in this year's town election, the town's political parties have hit a standstill.
According to a press release from Democratic First Selectman candidate Vicki Tesoro on Friday, the campaign of First Selectman Tim Herbst has stopped communicating and has to date declined to respond to the Democratic Town Committee's inquiries.
Tesoro added that Herbst's claims that she doesn't want to debate are "flat-out untrue."
"Democratic Town Chairman Tom Kelly has reached out repeatedly to their representative, Rick Costantini, but he's become unresponsive," Tesoro said. "And meanwhile Tim is out on Facebook claiming I don't want to debate. That's wrong. I'm saying for the record right here and now that I do want to debate, and I'm calling on Tim and Rick to communicate with us and negotiate in good faith."
Responding to the release, Costantini said that it was Tesoro who initially took 12 days to respond to Herbst's proposed schedule of five debates, which was released in mid-July.
He added that Kelly had emailed him at 10:30 p.m. Sunday, Aug. 16.
"As Tom knows I do work a full-time job so the fact that he hasn't received the campaign's counter-proposal after only 5 days should not be surprising," Costantini told The Times Friday.
He said he did have an "incredibly constructive" meeting with Kelly, but that Tesoro's campaign has since "backpedaled" from  the agreed debate structure.
"I was astonished that after crafting a framework for the debates, the Tesoro Campaign completely backpedaled and refused to consider any of the items that Tom and I discussed at length," he said. "Apparently Mrs. Tesoro didn't get what she wanted and decided to backpedal.
"It's also hypocritical that during our first meeting, I had to listen to Tom talk about how 'this shouldn't be negotiated in the papers and that its bad faith to do so,'" he added. "For a candidate who preaches that she's above the political back and forth, it's amazing how that is all that has taken place.
"The Herbst campaign negotiated in good faith and all the work that was accomplished during that discussion was thrown out of the window."
Lack of responsiveness
Kelly, who's serving as point person in the debate negotiation process, said in the release that he was surprised at the lack of responsiveness from Herbst and his team.
"On Aug. 10, Rick and I had a very constructive meeting," he said. "We had a solid discussion of a framework for the very debates Tim claims Vicki doesn't want to have. Since then, we've heard nothing for 11 days.
"It's hard to see this as anything other than either discourteous or discombobulated," Kelly added. "We're standing by and hoping to get this nailed down."
Kelly reiterated the Tesoro campaign's position: Three one-hour debates between the first selectman candidates, the last one being a live debate at the Trumbull Community Television studios, plus a 90-minute debate for the Board of Education candidates and another for the Board of Finance.
Originally, Herbst proposed five debates. He agreed to Tesoro's three in late July, but added that he would host his own "open chair forums" to talk about key public issues.
"The First Selectman has already agreed in the newspaper to participate in three debates, so we know that number is agreeable to him," Kelly said. "Three debates is the number that was held the last three election cycles, and has served the town well.
"Tim and Rick should stop playing politics and engaging in unproductive posturing," Kelly said. "Instead they should meet with us starting today and agree on a program of debates in the best interests of our residents."
Herbst also responded to the comments from the release Friday, reaffirming that he would like a series of five debates.
"I was the person to offer the first challenge of 5 debates," the first selectman said. "Very rarely do you see an incumbent challenge a challenger.
"I challenged Mrs. Tesoro because it's time for her to stop hiding behind press releases written by Tom Kelly and Lisa Labella," he explained. "It's time for her to stop reading from her prepared talking points that consist of empty rhetoric with no plan; it's time for her to meet me in open debate 5 times, starting with a live televised debate.
Herbst said that Tesoro has a "reluctance to face the voters."
"If I had Mrs. Tesoro's record of advocating for out of control spending and record high tax increases, I wouldn't want to face the public either," he said.
"I debated an empty chair last year and it appears that I will do so again this year."
Final offer 
Costantini said that Tesoro and her campaign would "prefer to negotiate in the newspaper," which left him no option but to submit the Republican Town Committee's final offer for this fall's debate schedule:
•Debate 1, late September.  90 minute televised debate carried live on cable access television that will cover all relevant and general topics concerning the Town of Trumbull.
•Debate 2, Early October.  75 minute debate focused on Finance, WPCA matters and other regional issues.
•Debate 3.  Mid-October.  60 minute debate on economic development.
•Debate 4.  Third Week of October.  60 minute debate on education.
•Debate 5. Last week of October.  75 minute general debate sponsored by the Trumbull Times and broadcast on cable access television.
"Mrs. Tesoro likes to preach about open and accountable government where the residents have access to information," Costantini said. "Here is her chance to stand behind those beliefs and stand before the Trumbull voters and explain why she is the better person for the job.
"If she decides not to attend any of the debates, that's ok, because Tim will be there to discuss his vision for Trumbull's future."
Editor's note: This is an updated version of the story that ran earlier.