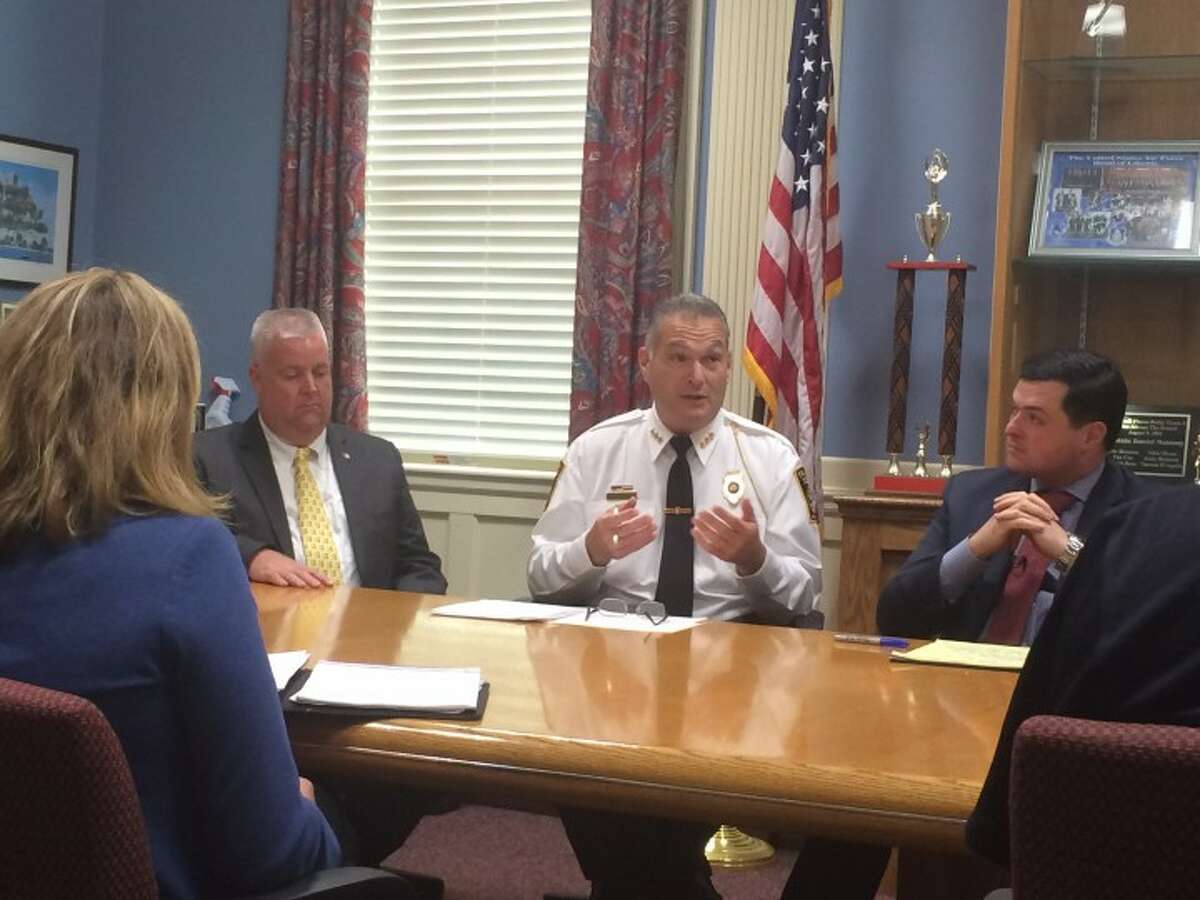 https://youtu.be/5ySo7-g0l5E
A proactive, all-hands-on-deck approach has been adopted to combat Trumbull's rising substance abuse problem and its recent spike in heroin overdoses.
Officials from a bevy of town departments, including members from the school district and local clergy, gathered at First Selectman Tim Herbst's drug prevention task force press conference Tuesday morning and focused on ending the community's drug epidemic.
"There is a problem here and we need to acknowledge it," Herbst said to the room of 20-plus people.
"We're not going to put our head in the sand and pretend it's not happening," he said. "We have to acknowledge it and tackle it head on."
Police Chief Michael Lombardo will lead the town's drug prevention drug task, Herbst said. The chief's plans include implenting three school resources officers (SROs) into the  district — one at the high school and one at each of the middle schools — and conducting random K9 drug searches at the high school when the class isn't in session.
"We want to get this fast tracked before the next fiscal year," Chief Lombardo said.
"The goal is to procure state funding to expedite this process," Herbst added.
The chief also said he wants the task force to work with the Mary Sherlach Counseling Center to determine what additional resources are needed for mental health services.
On the policing side of things, Chief Lombardo said he will recommend that an additional Trumbull police officer be put on the federal drug task force to enforce and make arrests.
Herbst emphasized that this task force would need a lot more than just the police department's help.
"We need all the stakeholders within the community to be invested in this," he said. "It's a community effort, not just something the police department is doing."
Dr. Gary Cialfi, the schools superintendent, shared the sentiment of creating a united front.
"The goal is to completely eradicate substance abuse all together," he said. "No town can this with just one agency."
Read more about the drug prevention task force in Thursday's print edition of the Trumbull Times.