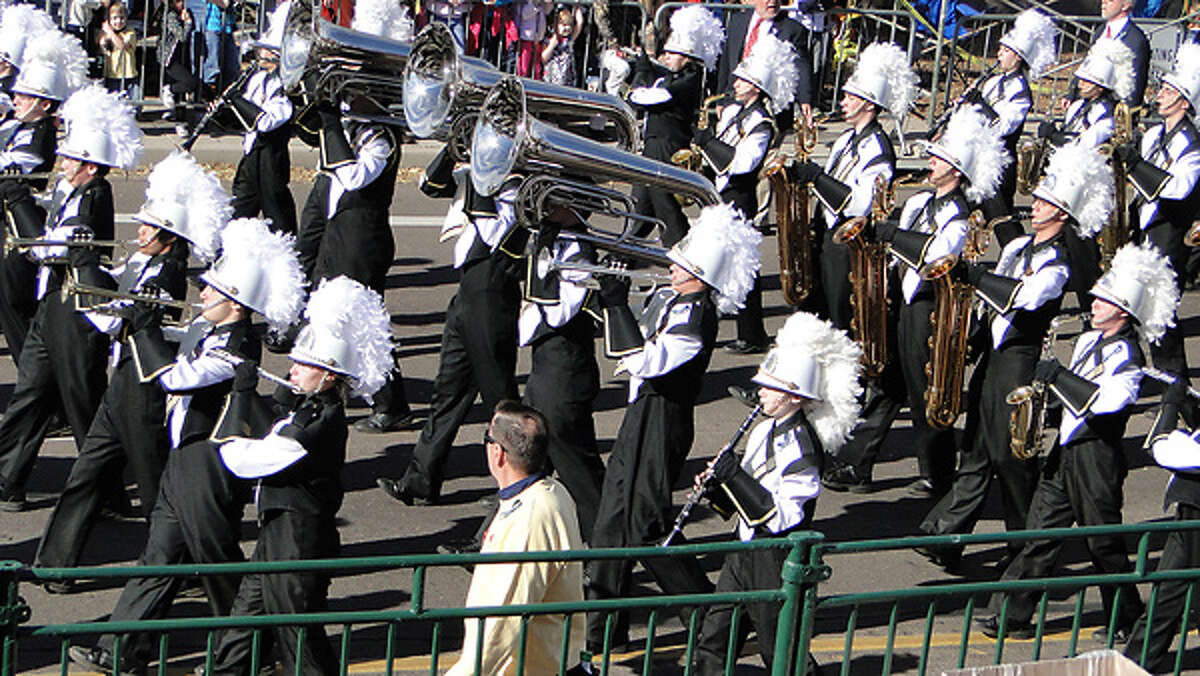 Communication is the key to any good relationship.
And that's not any different for members of the Trumbull High School Golden Eagle Marching Band, who have found talking to members of the community about their experiences goes a long way toward helping them play their instruments in town — and around the country.
"When you go door-to-door asking for money you learn a lot about communication — how to present yourself and why it's important for someone in this community to be interested in the marching band," said Jimmy McEwan, an incoming senior who started playing alto saxophone as a freshman and has played the tenor saxophone the last two years.
"Sometimes you have great conversations with people who open their doors and ask you about the instrument you play, or where the band will be traveling," he said.
McEwan said the door-to-door campaign, which kicks off Saturday, Aug. 29, and will run for two weeks, has provided him some of his best memories from being a member of the marching band.
"It's always a fun time," said McEwan, who will serve as one of the band's three drum majors this year. "Some people don't want us to be there and we only have a short conversation with them before moving on, but a majority of the time it's a really good atmosphere and shows that people do really care about giving back and donating...
"The funding really helps make the experience more affordable," he added. "Last year, as a junior, we were able to travel to Disney World thanks to the community's help."
And that was an experience of a lifetime.
"I think everybody's favorite memories come on the big trips," explained McEwan, who also traveled to Arizona as a freshman and played during the Fiesta Bowl on New Year's Day.
"We usually leave two days after Christmas and we're gone for about a week," he said. "We don't get to spend New Year's Eve or New Year's Day with our families, but we have each other and it's like spending the holiday with your second family — a much larger family because there's over 100 of us."
This year there won't be any big trip — the marching band can only afford to travel out of the Northeast every other year, but there is plenty to be excited about this season, including this weekend's first annual mattress fund-raiser sale.
The sale will be held at Trumbull High School from 10 to 5 Saturday, Aug. 22.
"This is the first time we're trying it," said Kelly Targowski, who's helping promote the event for the band.
As for the fall competitions and parades, the band may seen playing in Norwalk, Stamford, Bethel, Naugatuck, New Jersey and Delaware. The travel season for the winter programs is still being determined, but will include Dartmouth, Mass., Unionville, Pa., and Dayton, Ohio.
"People are pretty familiar with the door-to-door campaign because it's been going on here for a while, but we thought this would be a good way for the kids to get out there and engage the community in a different way — before they head out knocking on everybody's door next weekend," she added. "It's a one-day event that will help offset operating and traveling expenses of the band's program during the fall season."
King-size details
There will be 22 different mattress sets to choose from, available in all sizes, including twin, full, queen, king, California-king and even special sizes. Just as in a mattress or furniture showroom, customers may lie on and try out every set. Styles include plush sets, pillow-top sets, latex, memory foam and much more. The mattresses are new and name brand with full factory warranties, and all will be priced 30-60% below retail prices.
Bed frames, pillows and mattress protectors will also be available. Delivery is available.
All forms of payment will be accepted and profits will go directly to the Trumbull High School Golden Eagle Marching Band.
For more information contact Bob Tonne at btonnecfs@gmail.com.
Playing in the band
As one of the band's three drum majors, McEwan said he will miss playing in the band and marching with his instrument on the field during home high school football games. However, he's excited about achieving the highest rank and directing his fellow members to ensure their timing is right.
"I'm really happy where I am," he said. "This year I won't be playing on the field but I get to lead every show, and that's just a very cool position to be in — to know you're hard work has paid off."
Although he doesn't have any experience in the top role, McEwan has learned to adapt over the years, a skill he's aquired from three consecutive trips around town knocking on doors.
"We have a script that we write that's pretty basic but I find it very natural to off script and improvise a bit," he said. "Sometimes people ask you where the money goes to or what's your favorite song to play — those type of questions lend themselves for you to improvise and be yourself. You get comfortable with it."
The band splits into teams of four to canvass a given neighborhood, with the pod of four splitting into twos that split the street in half.
McEwan says the process lasts for two weeks because it's hard to organize a schedule with four different members.
"We're usually only out there for two to three hours," he said, noting that most residents should expect to hear knocks between 4 and 6 p.m. beginning Aug. 29.
"We try to get people before they sit down for dinner, but also when we know they're going to be home," he explained. "We only like being out there for a few hours because that way nobody's exhausted; it keeps everyone fresh.
"We don't want to look like we don't want to be there when someone comes to the door," he added. "The goal is to have plenty of energy to start up conversations and to still be encouraged even when someone doesn't come to the door."
The doors
The senior said that there isn't much of a difference between knocking on doors on weekdays and weekends.
"The day of the week isn't as important as when in the day you do it," he said. "We're not trying to be intrusive — we get that people don't necessarily like coming to the door and speaking to us, but we try to do it in a respectable manner."
Targowski, whose son John is a sophomore band member, said the door-to-door campaign is largest fund-raiser of the year for the musicians and color guard of the Trumbull High School Marching Band.
A parent drives the team of four members around town to ensure safety.
She added that each house in the community can only be solicited once.
"We're not trying to bombard people's doors — we're only going to knock once," she said. "There's a roster of four and a list of houses that group can knock on."
A place in history
For almost 30 years, Trumbull High School has been known throughout the United States to home to one of the nation's finest marching bands.
They have had the privilege of marching in the 54th and 56th Presidential Inaugural Parades in 2001 and 2009 in Washington, D.C.
Consisting typically of more than 100 musicians, 25 color guard performers, and drum majors, the marching band is the largest program at the high school.
"It's a very celebrated program," said Targowski, who noted that band fees are $750 per season, which includes regional competitions but not traveling or any equipment repair costs.
"This money goes to offsetting additional expenses," she added. "Some are unable to participate in some of the long-distance competitions and that impacts the sound. The goal is to have 100% participation at every event because these kids are giving 25-30 hours a week after school to practice — to make this program the best it can be."
While the music portion of the band program is part of the high school curriculum, the band relies on fund raising to pay for competitions and other activities that bring regional and even national recognition to Trumbull.
They have also traveled to Arizona where they participated in the Fiesta Bowl Parade as well as traveling to Orlando, Fla., last year where they marched at Walt Disney World, and the Citrus Bowl Parade.
The band's winter programs have also achieved national honors. The Winter Color Guard group took ninth place in the national competition in Dayton, Ohio, in April 2014, while the winter percussion program placed sixth in its national competition in Dayton this year.