This is a carousel. Use Next and Previous buttons to navigate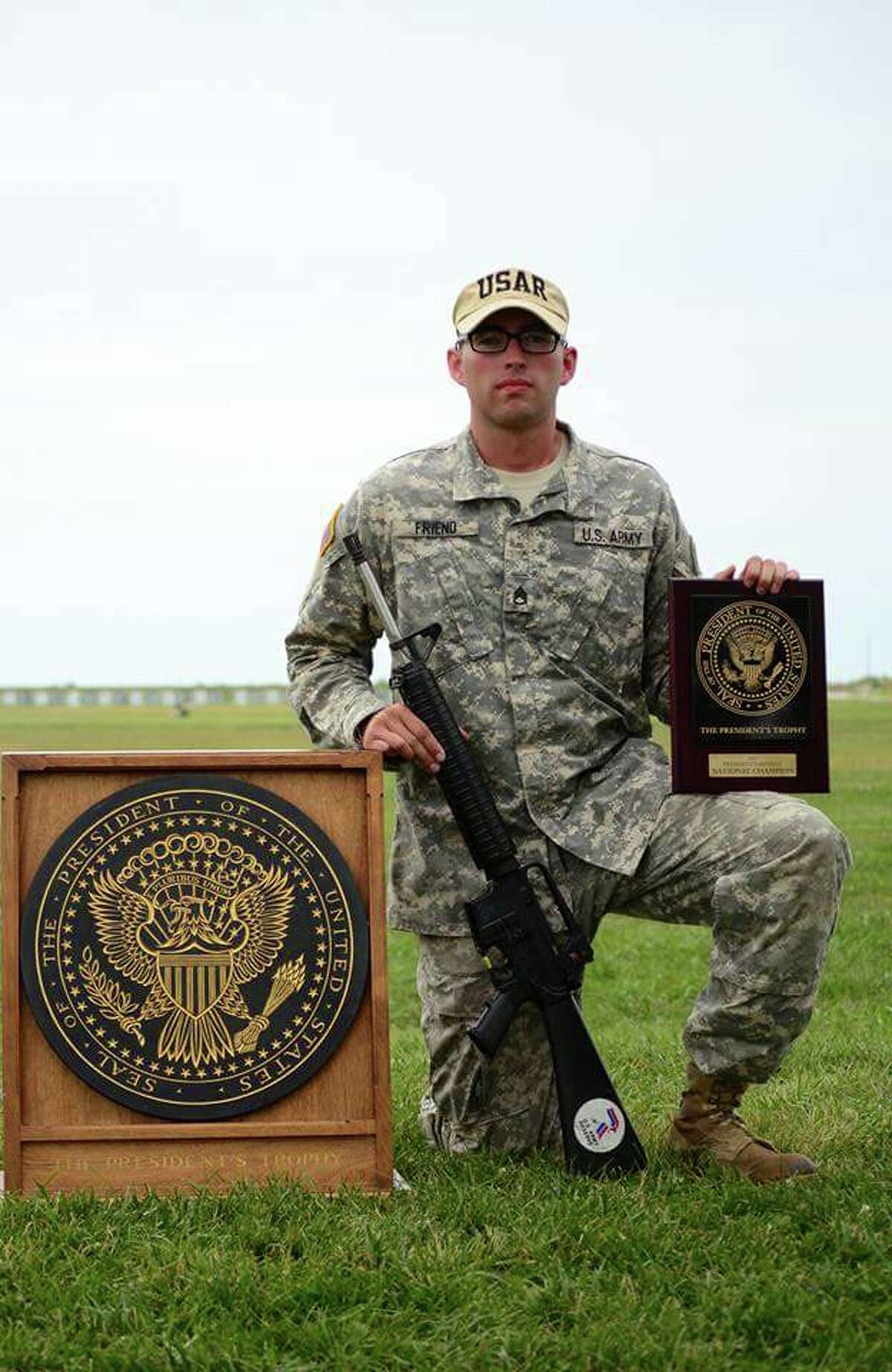 Imagine being one of the best in the world at any given discipline without having time to practice.
That's the reality for Trumbull resident Kris Friend, who won the Civilian Marksmanship Program's (CMP) National Trophy competition at Camp Perry in Port Clinton, Ohio, where he beat out the top 1,000 shooters in the President's Rifle Match on July 22.
Friend, who took home the coveted President's Trophy in 2007, is one of five riflemen to capture the event's top prize multiple times despite limited opportunities to hone his skill set.
"My practice is going to matches and competing," said Friend, who enlisted in the United States Army Reserve in 2004 and still serves in the 1001st Training Company of Civil Affairs and Psychological Operations Command (USACAPOC).
"There's not much time to practice the skills," added Friend, who has a two-year-old daughter Emmy and is expecting a second child this year with his wife Aarika. "And there's a limited ability to shoot at this discipline — 200, 300 and 600 yards, like at the National Matches — in Connecticut. I think there's one rifle club with a 200-yard range in the entire state."
For the 600-yard training, he has to travel to Reading, Mass., Nashua, N.H., or Albany, N.Y., and those chances are few and far between these days.
Nonetheless, Friend believes that competitions — both civilian ones, like the national matches at the National Guard training facility on the shore of Lake Erie earlier this summer, and interservice tournaments, like the one held in Quantico, Va. — are better than any practice time at a local range.
"There's a lot of troubleshooting that happens at these competitions that ultimately makes everyone, military or civilian, more efficient, and I really like that element of it — the instruction aspect of teaching others how to shoot and relaying whatever information I've learned from competing," Friend explained. "You can read any manual or watch any video but until you're doing it at an elite level with people who know how to do it right, then you're not getting in the best possible practice."
He added that every aspect of a competition can relate to teaching people how to shoot.
"Everyone is different in how they shoot, and you have to take into that difference," said Friend, who has served on the Army Reserve's Marksmanship Team since 2007.
"As a team member, our job is to get everyone more proficient," he added.
A passion and a calling
A 2004 graduate of Orville Platt High School in Meriden, Friend has been competing since 2001 when he was 13 years old. He started shooting when he was eight with a pellet gun and got his first shotgun at the age of 12.
Shortly thereafter, he joined the Connecticut State Rifle and Revolver Association's Junior Rifle Team for shooters under the age of 21.
"That's when I started shooting for discipline," he explained. "I shot for the junior Olympics team and competing there really motivated me to join Army — being around the different military teams and seeing their dedication and concentration."
The same summer that he graduated high school, he enlisted in the reserves but never served abroad.
He said he was committed to the path of being in the Army ever since Sept. 11, 2001.
"When 9/11 happened, I said to myself that no matter what I would serve," he said.
A year after enlisting, Friend realized he could compete with the best of the best when he finished in 88th place of the CMP's President's Rifle Match in 2005.
Two years later, as a member of the Army Reserve's Marksmanship Team, he took home the top prize.
"My goal was to finish in the top 50," he said. "I went into the final round in the top three and ended up winning — that really set the standard of how I could perform; that's really the first time I realized I was any good...
"This is a team effort and I couldn't have done it without my coaches and my teammates," he added. "Being part of the team and getting the funding really allowed me to excel. Before that I was paying my own way as a junior shooter.
Camp helper
At Camp Perry this year, he used an AR-15, besting more than 1,300 competitors to claim the top prize.
"When you get into the top 100 designation — the President's 100 — it's a big deal," he said. "It's really hard to get there; it's a rare circle of shooters."
The National Matches, which lasts for three weeks in July, have drawn well over 6,000 annual participants from school students to some of the world's best, including Friend.
"The age ranges from 13 years old to 88 years old," he explained. "It's civilians, not just military."
Friend revels in his role as a source of information and leadership at Camp Perry.
"People come up to me and ask for advice," he said. "I love relaying information to others and helping them out."
A letter from the president
Among his many medals and trophies, Friend holds a signed letter from then-President George W. Bush personally congratulating the young marksman for his accomplishment.
"The tradition dating back to 1903, when the National Matches were first held, is that the acting president of the United States of America sends the competition's winner a letter of recognition," Friend explained. "That tradition ended after 2007, which was the first year I won, so I ended up with the last presidential letter."
Shooter's mentality
Friend, who works as an athletic trainer at Christian Heritage School in Trumbull after receiving a master's in sports medicine at California State University, Long Beach, said the focus and poise he uses to win competitions has translated to other areas of his life.
"There's a lot of focus and attention to detail that all shooters need to have in order to succeed," he said. "There's a degree of OCD that shooters have at marksmanship competitions — you have to be able to do things the same way every single time and that requires a lot of dedication and persistancy."
At the National Matches, Friend was highly effective in the 200-, 300- and 600-yard parts of the tournament.
At the shortest distance, shooters fire 10 shots standing from 200 yards. Then, they have to shoot more rapidly — 10 shots in 70 seconds — from 300 yards.
The final test is 10 shots in 10 minutes from 600 yards.
"The top 20 of the top 100 get 10 more shots at the 600-yard distance and then a winner is determined," he explained.
Keeping the mood light
Despite the mental concentration needed when shooting a rifle, the Trumbull resident said that he likes to keep things light and joke around with other members leading up to the matches.
"I find that when you're super serious you're too stressed out … and prone to be worse so I try to have fun," he said. "Once it becomes a job, it's not fun — it's not worth doing."
He added that getting paid to teach and compete is a dream come true, which makes it easier for him to keep the mood light.
"It's always going to be fun that way," he said.
Passing it on
The traditions and enthusiasm around marksmanship are in jeoprady with the recent anti-gun legislation being passed around the country, and specifically in Connecticut, Friend said.
It makes it difficult for young shooters to continue to pursue their passion and develop their skill set, he added.
"I have a nephew who can't get a rifle, who can't get into the sport of shooting, without someone who's apart of the Civilian Marksmanship Program or who's in the military," Friend explained. "Luckily for him, I'm a member of both but otherwise there wouldn't even be an option for him."
Friend's nephew isn't the only member of his family set to follow in his footsteps one day.
"My father-in-law has a rifle for my daughter when she grows up and we hope she wants to compete," Friend said.
"Females are the minority in the matches. I'd say it's about 80-20," he added. "But that doesn't mean they can't compete — the national record is held by a female. It's all about getting daughters interested in it and teaching them how to shoot with proficiency and focus."