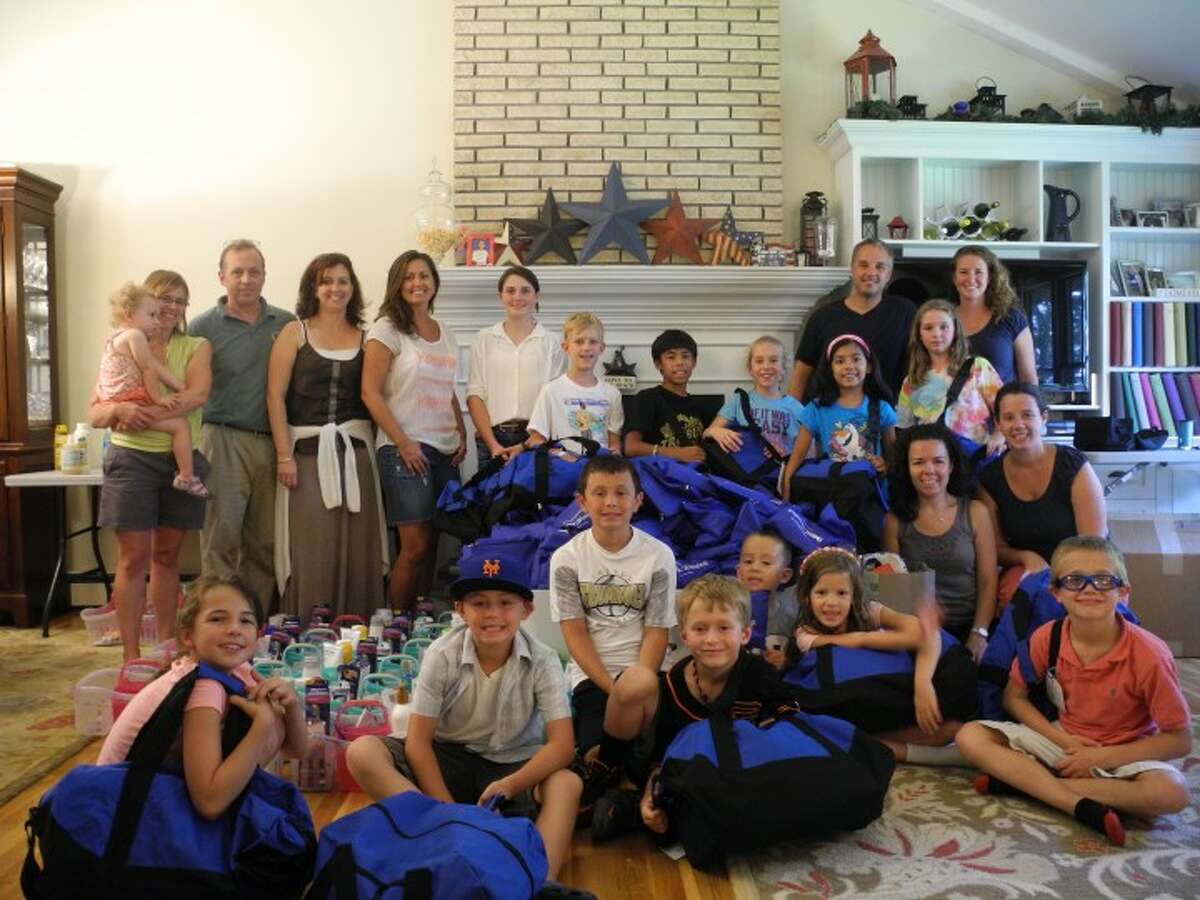 Giving back to those less fortunate doesn't have to be limited to writing a check to a local charity around the holidays.
It can be done hands-on, throughout the year, with a wider impact than just one organization, and it can all be done in a day.
That's the mission of IMPACTTrumbull, a local, family-based community service and volunteer group that supports existing non-profits in Fairfield and New Haven Counties through collecting, assembling and delivering special packages of goods.
"IMPACT stands for Individuals Making Positive Advances in our Community of Trumbull," said Jenn Record, president and founder. "It's all Trumbull families that get together —including moms, dads, and kids — to donate their time and talent to those who need it the most.
"We believe strongly in the idea of being a community and working together," she added. "And we really want to raise the next generation to do the same — to grow up learning what it is to give back to others...
"It's very important to all of us parents to incorporate our children, and to make this part of their lives."
This summer was exceptionally busy for the community service group, which consists of about 75 Trumbull residents who try to get together monthly to assemble the collected goods Record keeps at her house.
On Aug. 18, Record hosted five IMPACT families in her home to assemble packages of goods that were donated by 35 members from the group as well as 20 other members from the Trumbull community.
In total, IMPACT was able to donate 210 "blessing bags," consisting of travel size toiletries, to the soup kitchen of United Congregrational Church in Bridgeport.
But the generosity didn't stop there.
The group delivered 26 "care caddies," which are full-size toiletries, to the Trumbull Food Pantry.
Children at the St. Vincent's Special Needs Services school in Trumbull  received  34 "sweet cases," which include comfort items like teddy bears, blankets, crayons, and coloring books.
Lastly, IMPACT was able to fill 54 backpacks with school supplies and give each one to Family ReEntry in Norwalk.
"This was one of biggest collections yet," Record said. "We hadn't had a group project to assemble in about six or seven weeks so it was good to get together before everyone goes back to school."
Beneficial impact
One of the positives to come away from the organization, which filed to become a non-profit in September 2012 and achieved 501-3c status less than a year later in August 2013, is that volunteers aren't required to fulfill a certain requirement of giving back.
"IMPACT has members who plan on volunteering for every event and we have members who plan on giving back certain times throughout the year," Record said. "A highlight of our organization is that members don't feel pressure to give every time or to every cause; they do so when they can.
"Many members have already expressed a personal connection with an organization or cause and want to continue working with that organization on their own," she added.
And the group isn't about making a difference through monetary donations.
"We don't ask for money," Record said. "We like giving back without getting money involved."
Besides blankets and teddy bears, IMPACT assembled 400 lunches for Stamford school children, in support of Filling in the Blanks, in June 2015. The group also collected 3,700 books in January 2015 which were donated to Read to Grow, a local non-profit whose mission is to promote early childhood literacy in Connecticut.
Members have supported a diverse of organizations, ranging from the Trumbull Nature and Art Center to the Bridgeport Rescue Mission to Homes for the Brave to Tidy Up Trumbull to the ICU unit of Yale-New Haven Children's Hospital.
"This fall, we have plans to support Bridgeport Rescue Mission, Filling in the Blanks, Hungry Kidzz, Trumbull Social Services, and Burroughs Community Center," Record said.
"Trumbull is a place where we can make a difference," she said. "We're fortunate to live in this great community and to have the ability to give back."
For more information go to www.impactrumbull.org.