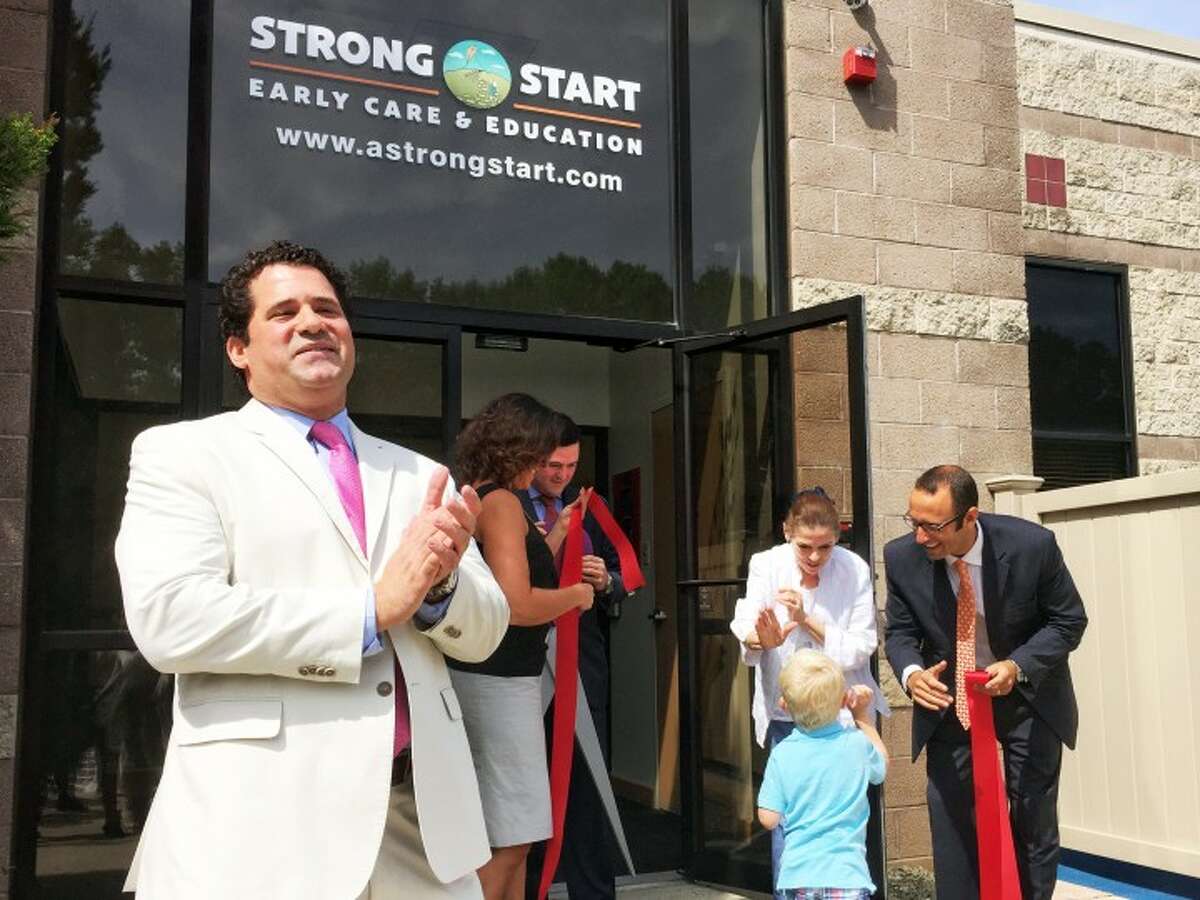 Mary Taylor has no doubts about whether her son enjoys daycare.
"The first day Cal screamed and cried and didn't want to leave me," Taylor said of her three-year-old son, Callum.
"Now, he asks every day if we're going to school."
Taylor, a Trumbull resident, has two kids enrolled at Strong Start Early Care & Education — Callum and her one-year-old, Adelaide.
After returning to work part time, Taylor wanted to find a quality daycare program that would also serve as a preschool.
And what she found was Trumbull's newest independent program for young children, a place that's earned Cal's enthusiastic approval.
Cal said his favorite activities are playing with friends and visiting the outdoor playground, which boasts a springy rubber surface popular with the kids — something most adults would probably enjoy, too.
Strong Start — which quietly opened in April and is enrolling kids for its new year beginning Aug. 31 — doesn't bill itself as just a daycare or preschool, but rather an early childhood education program. It follows state guidelines so that kids can enter kindergarten prepared to continue with the state's curriculum, according to Marc Hoffman, its founder and educational director.
That's what sets Strong Start apart from other programs for young children, Hoffman explained.
Hoffman understands that people will inevitably call it a daycare, but he chafes at the comparison.
Strong Start provides more than stacking building blocks.
Young investigators
The facility adheres to "inquiry-based learning," he said, meaning that kids are learning how to ask questions and investigate. He stresses, though, that all activities are age-appropriate and tailored to each child's needs.
"I really wanted a learning environment that would have benefited me at this age," he said. "There's no one way to learn, and the desire to learn has to come from within."
Room for growth
Strong Start caters to children ages six weeks to 4 or 5 years, depending on when they enter kindergarten. It already has 50 kids enrolled for the upcoming school year.
And there's plenty of room for more. Strong Start occupies a spacious, 12,000-square-foot facility at 56 Quarry Road that still has that new building smell. It boasts a 1,000-square-foot indoor gym, several playrooms and, of course, Cal's bouncy outdoor playground.
The facility's kitchen is also licensed to allow cooking classes geared to its mini chefs-in-training.
Last week, Strong Start made it official with a ribbon cutting and gathering for its supporters. First Selectman Tim Herbst was there, and called Strong Start "one of the nicest new facilities we've seen in town, and we have a lot of new construction."
Cal served as honorary ribbon-cutter and spokesman.
Parents may attend an open house at Strong Start this Saturday, Aug. 15, from 9 to 3, or visit astrongstart.com for more information.