This is a carousel. Use Next and Previous buttons to navigate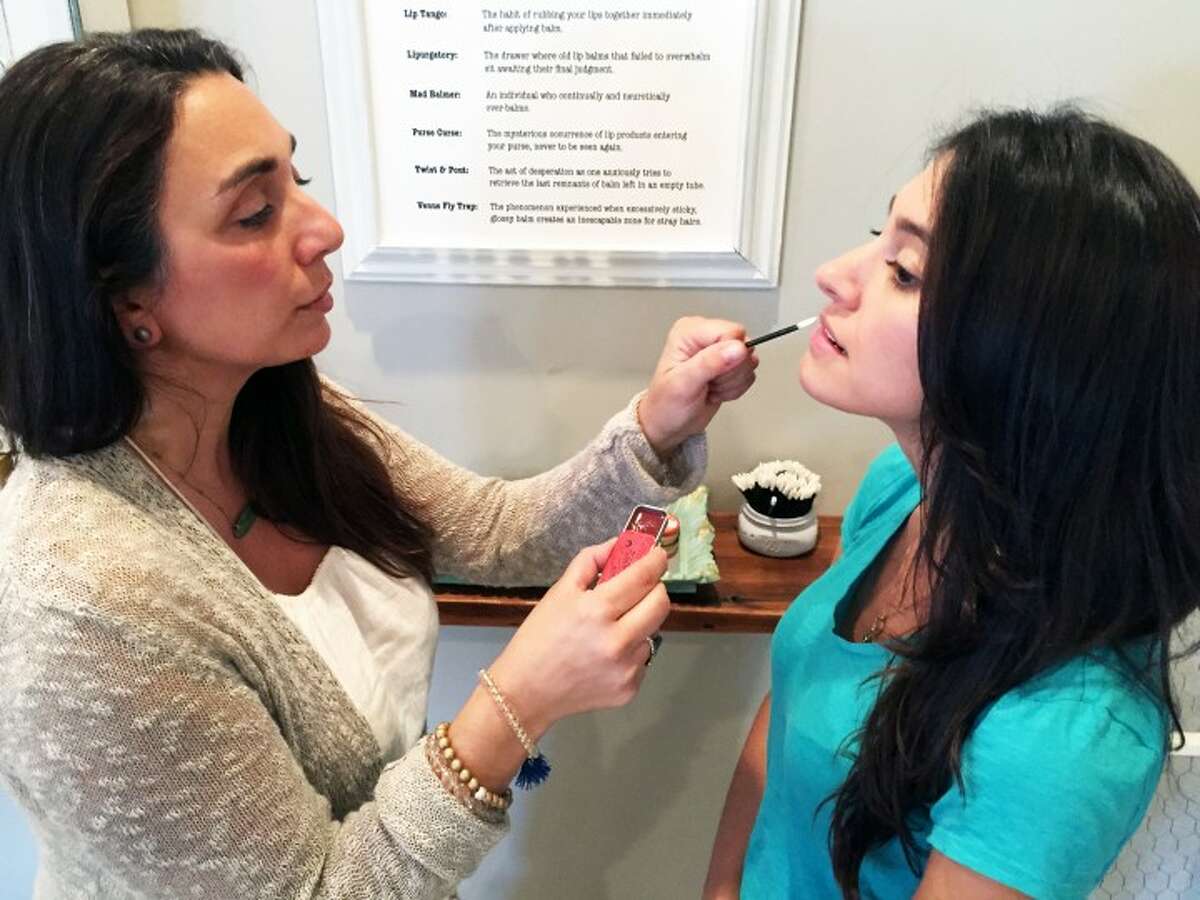 Portia Antonio's new shop, Pure Poetry, is nostalgia, with its scents that take customers back to childhood, and even with the sign that welcomes them into the store.
"If you're a dreamer, come in," it reads, quoting the opening line from one of Antonio's favorite books, Shel Silverstein's Where the Sidewalk Ends.
Pure Poetry, which opened Wednesday, Aug. 19, is a collection of luxury goods, including items made by Trumbull artisans.
Antonio hopes to create a vivid experience for customers with things that she find sentimental.
"I want this be an experience of pure delight for all their senses," she said.
"I want people to say, 'This place smells amazing,' or, 'I haven't heard that song in forever.'"
'Remember these?'
Pure Poetry has a slew of custom items, such as wooden blocks with lyrics from Antonio's favorite musicians — Steely Dan; Crosby, Stills & Nash; the Eagles and Fleetwood Mac — and lines from Caddyshack, National Lampoon's Vacation and Reality Bites.
"I'm bringing back a lot of things I had as a kid," she said, showing a display of lip balm inside a medicine cabinet.
Picking out a small tin of gloss, she is transported back to a simpler time.
"This reminds me of childhood," she said. "Do you remember these?"
Antonio's earliest memory of shopping was at the now-closed Rainbow Shoppe in Darien, where she coveted the fat rolls of Mrs. Grossman's stickers.
"It wasn't a lot of money," she said, "but I could make my own choices."
Pure Poetry sells Mrs. Grossman's stickers for a few cents each.
While Mrs. Grossman's is a name-brand, Pure Poetry stocks several Trumbull creations: Sweet Pea Papery, Ralph & Martha and Claysonnets.
Each of these brands, Antonio said, has well-crafted, affordable products, such as Ralph & Martha's "vegan leather" purses priced from $15 to $30.
Luxury doesn't have to be expensive, she said.
"A bar of soap you're lathering — it feels good and it's luxurious," she said.
Her own shop
Antonio learned sales working at a skin-care shop in Boston, where she started as a sales clerk before eventually becoming a national sales manager.
But since she was a kid, Antonio has wanted her own store.
Her plans began to take shape when she moved to Trumbull.
After years of searching for the right location, her family's real estate development company, M.F. DiScala & Company Inc., purchased the Madison Avenue shopping plaza where Pure Poetry found its home.
In a nod to its previous occupant, Pure Poetry incorporated a barn door from P.J.'s Garden Exchange, the former flower and gift shop, which sat unoccupied for several years after closing.
Sisters
Pure Poetry's family connection doesn't end with its landlord. Antonio's general manager is her sister, Natalie Grillo.
Grillo has a background in retail, working as a visual merchandiser for stores such as J. Crew and Kate Spade.
Like its candles and lotions, Antonio and Grillo's banter is another of Pure Poetry's draws.
One might catch these two doing each other's makeup, or just cracking up at their jokes, like when Antonio described how she organizes her ideas for the store.
"I'm a big planner," she said.
Grillo paused.
"Really? You are?" she asked, sparking a shared laughter between siblings.
"We get along great together," Antonio said of her sister.
"It's worked for us all these years," she added. "She'll always be my little sister."
Grillo agreed.
"Everything she has I've always looked up to," she said.
Silver Spring
When Fleetwood Mac's Silver Spring starts to play over the store's loudspeaker, the identity of Pure Poetry is crystal clear.
"That's the song!" Antonio said.
She turned to a painting that takes up most of the wall beside the register. It features lyrics from Silver Spring — "You could be my silver spring/blue green colors flashing."
Blue and green are Pure Poetry's colors, used for its "signature" bracelets by Ansonia jewelry-maker Beads by Alyssa, and in the creamy hues of its distressed furniture.
"I love this song," Antonio said, closing her eyes.
"Do you ever hear something and it just takes you back?"
Pure Poetry is at 4244 Madison Ave. Visit shoppurepoetry.com for more information.